Is there a better college football player in the country than Nebraska's overpowering defensive tackle Ndamukong Suh? Okay … if we are talking fully healthy players, he's got to be it.
Despite facing constant double-teams, the tireless Suh makes his presence felt on nearly every play. Wide-eyed NFL scouts are seen drooling where ever he goes.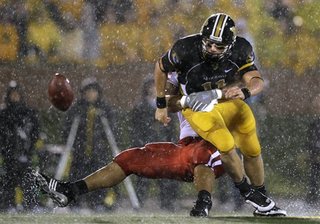 Thursday night at Missouri, he not only had six tackles and forced a fumble while sacking Tiger quarterback Blaine Gabbert (pictured), he also made the play of the game, intercepting a Gabbert pass at near point-blank range in the fourth quarter.
Prior to that turning point, Nebraska appeared well on its way to an 18th consecutive loss to a ranked opponent on the road.
But Suh changed the mood on a miserable rainy night at Faurot Field and the Cornhusker offense cashed in the turnover two plays later on a 13-yard touchdown pass from quarterback Zac Lee to wide receiver Niles Paul, putting Nebraska ahead for the first time, 13-12, with 12:59 remaining.
On Missouri's ensuing possession, Gabbert, who played on a gimpy right ankle for most of the game due to his first fumble-causing run in with Suh, threw another interception on his next attempt.
Prior to those two throws he hadn't thrown an interception in his young collegiate career. But, of course, Gabbert hadn't come across Suh before.
Nebraska's offense, which was completely dormant during the first three quarters, made the Tigers pay once again, this time with Lee hitting tight end Mike McNeill from eight yards out.
When was the last time you could say with any degree of certainty that a defensive tackle was the difference in a 27-12 come-from-behind victory? Well … such was the case on this night in Columbia.