Coming off a shocking upset win over South Carolina Saturday, Kentucky wide receiver Randall Cobb created quite the stir over the weekend by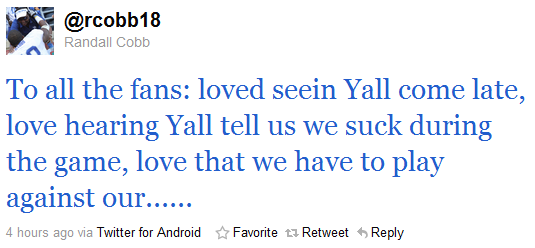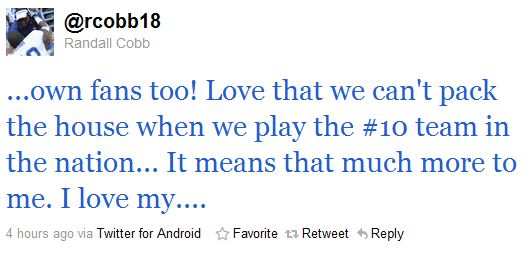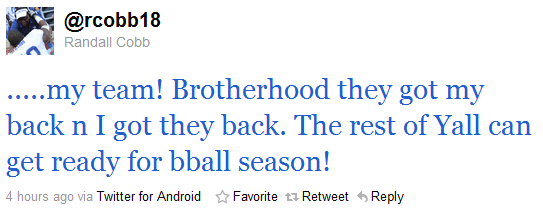 Today, a contrite Cobb apologized for the rip job that he said was meant for a small percentage of fans but he shouldn't have done regardless.
"First off, I just want to start off by saying I made a mistake," Cobb said according to the Lexington Herald-Dispatch. "I did. I messed up. I take blame for everything I said. I know I was wrong. I was wrong for the fact that I took a small percentage of our fan base and lumped them all as one and made it all whole.
"That's not how our fans are. 99 percent of our fans are great fans. And they know that. They've been there supporting us throughout the years. I took a small chunk and made it something big, and I can't do that. I made a mistake, I'm a man, I admit my mistake and I just want to let everybody know that I'm sorry and I hope they can forgive me."
Perhaps the portion of the Twitter trifecta that got under the skin of the fans the most was the "basketball school" insinuation (it is, incidentally). Cobb said he meant no disrespect to the storied basketball program.
"They know I have more respect for them than anybody," he said of UK's basketball program. "I hang out with half those guys. I've been over there to talk to Coach Cal. I have so much respect for that program. I'm trying to make this a program that's similar to that one and try and have a football/basketball school. That's what my intentions are. That's what my goals are. It has nothing to do with them."
While some coaches have taken to banning their players from Twitter and/or Facebook even before a controversy had surfaced, UK head coach Joker Phillips has no intention of keeping his players off the social media sites.