Many a true fan has loudly — and sometimes drunkenly — proclaimed that they will fight for and support their team until the last breath is ripped from their body. One man last night grabbed that "stay true to your school" concept and spooned the hell out of it as he lay strapped to his highly-lethal and heavily-guarded deathbed.
Jeffrey Landrigan was scheduled to be executed Tuesday night for the 1990 armed robbery and strangulation of an Arizona man. Landrigan had escaped from an Oklahoma prison in 1989, where he was already serving time for second-degree murder.
Hours after dining on a succulent on-the-house last meal of steak, fried okra, french fries, strawberry ice cream and a Dr. Pepper — the okra was to die for — the convicted killer, as is customary, was given the opportunity to say a few final words before departing this mortal coil via lethal injection.
Following the execution, a prison official gave an account as to what exactly it was Landrigan decided to utter as the game clock of life was ticking down to double zeros.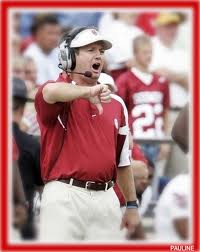 "Well, I'd like to say 'thank you' to my family for being here and all of my friends. Boomer Sooner."
[tosses microphone]
[dies]
Somewhere, the whole of Sooner Nation is cringing in unison at the thought that their beloved fight song will now be a national headline/punchline for the next couple of days because some scumbag decided to remain a dyed-in-the-wool superfan until the last possible second. Or they'll be giving it a big, hearty thumbs down. One of the two.
(Tip O' the Cap: EDSBS)