With the third release of the 2010 edition of the BcS rankings Sunday night, there was the expected little bit of jostling and repositioning throughout the upper tier of the rankings. The underlying theme, however, remains an ever constant.
Oregon, Auburn, your fate is in your own hands. Win out, and you'll suck every ounce of sensible argument out of the equation. Lose? Well, let's just say you'll have only yourselves to blame for the chaos that would ensue.
On the strength of their impressive road win over USC, and with a huge bump from No. 8 to No. 2 in the minds of the machines, Oregon is the latest leader in a flawed system that currently determines a national champion. Auburn, last week's No. 1, comes in at No. 2.
Boise State, which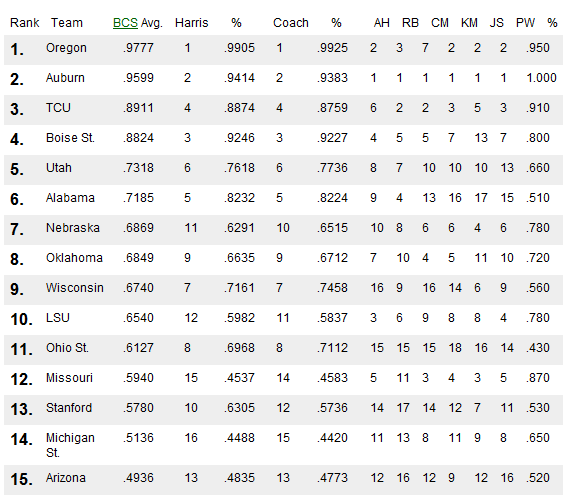 So, what does all of this numerical gibberish mean right now, at this moment? With five releases left until the final slotting in early December, not a whole helluva lot if the top two remain unscathed.
It will be driven into your skull for the foreseeable future, and rightly so, that nothing else right now matters other than how Oregon and Auburn fare. Of course, with unbeatens going down in quick succession the last few weeks, there's no guarantee of any import you could give that the current top two will get through the remainder of their respective slates with a zero on the right side of the W/L ledger.
If the thinkable happens, and either Oregon or Auburn loses or, perish the thought, both go down in a heap of flaming defeat?
How would an Alabama-TCU title game grab ya?
Depending on how the next five weeks play out, that match-up is a very realistic possibility. And, ya know what?
College football would be a better game because of it.
As long as the flawed system that currently determines a national champion dies a swift death once the current TV deals expire, of course.