WINNERS
Ding-dong! The jinx is dead!Well, for at least a week it is. In each of the past three weeks, a No. 1 team in one of the major polls/BcS rankings has gone down in a flaming pile of defeat. Saturday, BcS No. 1 Auburn and Associated Press No. 1 Oregon were able to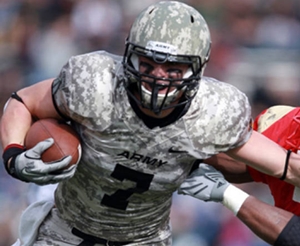 Hey, where'd they go?At the right, courtesy of their athletic department, is the camouflage uniform Army wore in their game Saturday, and there's just one word that can describe that design: Bad. Ass. As a direct result of said bad-assedness, the Black Knights easily drubbed VMI 29-7 Saturday afternoon. God bless America…
MinnesotaSure, the Gophers got their asses handed to them by Ohio State. However, if they truly have an interest in Miami of Florida's Randy Shannon, he might just be available after today's debacle against Virginia. Hell, the Coral Gables school might even pack his bags for him at season's end, and you probably wouldn't even have to twist their arms to get them to do it. And based on a text message we received from a former Hurricane and current NFL player, the alumni will be leading the charge to get Shannon to the Land of Ten Thousand Lakes post haste. "by [sic] randy. get the [very bad word] away from my school. had yo chance, now be gone." So, yeah, there's your ringing endorsement Gophers. Have at it.
How does he not have a good game Halloween weekend?Ohio University's starting quarterback had 314 yards of total offense and accounted for four touchdowns — three passing, one rushing — in the Bobcats' 38-31 win over Louisiana-Lafayette. The quarterback's name? Boo Jackson, of course.
Time to score, b****In his first game back from a five-game suspension, wide receiver/running back Chris Rainey ran 16 times for 84 yards and a touchdown, caught two passes for nine yards, and returned six kickoffs for 148 yards in helping Florida snap a three-game losing streak in a thrilling overtime win over rival Georgia. And, yes, I mentioned Rainey just so I could type out that mini-headline.
LOSERS
NebraskaYes, they "upset" the No. 6 team in the country. Yes, they still could sneak back into the Top Ten as early as this week. Still, they have to be kicking their own asses for the inexplicable, inexcusable loss to Texas two weeks ago. As tough as that loss was to swallow, what's transpired since then — the road to Glendale paved not with Trojans but rather the rotting carcasses of previously unbeaten teams — only serves to intensify the feelings of "what if" for the 'Huskers.
Miami quarterbacksStarter Jacory Harris suffered an injury in the first half and didn't return. Backup Spencer Whipple completed 4-of-6 passes after replacing Harris; unfortunately, two of the those completions went to non-Hurricanes. With A.J. Highsmith injured, the Hurricanes were forced to reach
down to their No. 4 QB on the depth chart — and burn a redshirt — in order to replace an ineffective Whipple. Add it all up, you get once-mighty Miami not only losing to Virginia, but getting embarrassed in the process. Do you think the university would be willing to pick up the first-class airfare tab for Randy Shannon as well as pack his bags in order for him to make his way to Minnesota?
No, we don't need a steenkin' playoffThe Big East is guaranteed a spot in a BcS bowl. The Mountain West is not. That is all.
Baylor 30, Texas 22The Longhorns have lost to Iowa State and Baylor in the same season for the first time ever, which affords the 'Horns the honor of being DeNiro'd for an unprecedented second consecutive week. Take it away, Bob…
Well, it's about timeRyan Tannehill passed for a school-record 449 yards in Texas A&M's 45-27 win over Texas Tech. Of course, that performance begs the question: what the hell took Mike Sherman so long to bench struggling Jerrod Johnson and insert Tannehill? If Tannehill continues to play meaningful minutes and continues to put up numbers in a similar neighborhood to what he did today, Sherman will have a lot of explaining to do at season's end for why he failed to pull the trigger on a change at quarterback earlier.
Der Dooley and his QBsI think, ultimately, that Derek Dooley will find success at Tennessee. However, Field Marshall Dooley is a doing a disservice to this 2010 Volunteer team by playing inexplicable games at the quarterback position. Pick one, then run with him. Matt Simms, Tyler Bray, whomever. But, but based on the way he nearly brought the Vols back against South Carolina, it might be time to take out the either/or option and begin the Bray era in earnest. Might as well; besides more games, what is there to lose? Plus, by choosing Bray, you could really stick it to The Whiny One. Win-win, I say.
Rock chalk JaysuckIf I'm Turner Gill, I'm giving my agent/lawyer a very, very nice and heartfelt present this holiday season. In his first season at Kansas, Gill's Jayhawks dropped to 2-6 on the year following a 12-point loss to Iowa State. Overall, the Jayhawks have dropped an amazing 11 straight Big 12 games over the past two seasons. No, Gill's not on the hot seat — the $8 million he would be owed if fired after Season One would preclude such an event — but the former Nebraska star has a long row to hoe in turning that program around and staving off the executioner after Year One.
Where you been? We've missed you soWhen Michigan started the season 5-0, all of the talk of Rich Rodriguez being on the hot seat slowly faded in the background. After three straight losses, however, the chatter is back, front and center and steadily climbing in decibels. The Wolverines' latest loss came at the hands of a below-average Penn State team 41-31 in Happy Valley and drops them to 5-3 on the season. One more win will make them bowl eligible, but, in three of their four remaining games, they Will Likely be decided underdogs. If Michigan were to somehow fail to reach bowl eligibility, which would mean they would end the season on a seven-game losing streak? RichRod's seat will be cherry red heading into yet another bowl-less offseason.
Washington, meet rock bottomWashington's 41-0 loss to Stanford was the first time since 1976 the Huskies have been shut out at home. Their 106 yards of total offense was their worst output since 1973. That pretty much sums up the second season under Steve Sarkisian, doesn't it?
The first half, ya know, counts tooMichigan State and Missouri entered today's game a combined 15-0 and were ranked No. 5 and No. 6, respectively. At the half, the two unbeatens were down by a combined score of 54-7 and were outgained in yards 539 to 296.
Roller Cal-sterIf you're looking for a competitive, evenly-contested contest to take in over the next few weeks, you should probably avoid any game involving Cal at all costs. Cal's 35-7 loss to Oregon State continues what's been one helluva roller coaster season for the Golden Bears; the school has lost games by scores of 48-14 and 52-31, and have won games by scores of 50-17, 35-7, 52-7 and 52-3. Yeah, I'm dizzy now too.
Wendi Nix, Latin for "cringe worthy"Doing the voice over during one of ESPN's in-game breaks, Nix said that Tulsa's end zone interception "was the final nail in Notre Dame's coffin". Given the tragedy that transpired earlier in the week, it wasn't exactly the most choice turn of a phrase we've ever heard.