The Dallas Football Classic has yet to see its first postseason action, yet the Dallas bowl game is getting a complete makeover, name-wise, two months ahead of its inaugural launch.
In a press release issued this afternoon, bowl officials announced that they have reached an agreement with TicketCity to become the game's title sponsor.  The game will officially be called the TicketCity Bowl.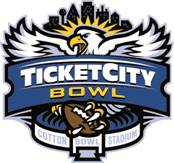 "We are more than excited to be part of the continuing tradition of post-season college football at the historic Cotton Bowl," says Randy Cohen, Founder and CEO of TicketCity. "We look forward to this opportunity to be part of an unforgettable experience for TicketCity clients, our employees, college football fans and the Dallas community. What a way to kick off the New Year!"
"Obviously we are extremely pleased to have TicketCity as our title partner," says Tom Starr, Bowl President & CEO.  "The rapid rise of TicketCity to the top of its field of endeavor is a story that we hope to emulate with our new bowl.  The name is a natural for a bowl game and we are honored to have it in our title as we kick off what is destined to become a major New Year's Day post-season college football attraction."
The TicketCity Bowl will be played at the legendary Cotton Bowl Stadium in Dallas on January 1, 2011, and will be the first of the New Year's Day bowl games to kickoff that day.  The game replaces the Cotton Bowl Classic, which moved to Jerry Jones' Ode to Excess Stadium earlier this year.
The bowl game features the No. 6 team from the Big Ten against a team from either the Big 12 or Conference USA.
In the interest of full disclosure, TicketCity is a very valued partner of NBC Sports.com.