Boise State is already scheduled to open the 2011 season against a team from the SEC.  As rumor has it, the Broncos are on the verge of ditching that school… in favor of a school from the same conference.
While there's nothing official as of yet, it appears very likely that Boise State and Georgia will open the 2011 regular season in the Chick-fil-A Kickoff game.  Talks have been ongoing between the two schools to take part in the game staged at Atlanta's Georgia Dome, and a BSU source has told CFT that all that's left "is basically hammering out the details with ESPN."  If this game comes off as rumored, it would be the second time this century the two schools have opened a football season against each other; in 2005, the Bulldogs throttled the Broncos 48-13 at Sanford Stadium.
Obviously, though, both schools already have '11 openers scheduled — Boise State against Ole Miss and Georgia versus Louisville — and those contracts need to be taken into account as well.
Ole Miss athletic director Pete Boone wrote on Twitter Thursday morning that there was "a big football schedule announcement today", but later apologized for a delay in the announcement due to "a lot of moving parts" involving ESPN.  Louisville associate AD Kenny Klein told the Macon Telegraph yesterday afternoon that he's heard rumblings of a schedule change, but there was nothing definitive as of yet and the Cardinals were still scheduled to play the Bulldogs in September of 2011.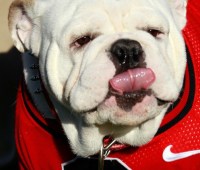 When he met with the media after the rumored BSU-UGA game really bubbled to the surface, UGA head coach Mark Richt played coy when questioned about the speculation surrounding next year's opener.  The coach did, however, give a hint that an announcement could be forthcoming the first of next week, if not sooner.
"I'll tell you Monday," Richt said when asked about the impact of SEC teams playing in the kickoff game.
UGA athletic director Greg McGarity told the Athens Banner-Herald he "just can't comment" on the speculation.
Barring an unexpected collapse of the talks, though, an announcement of an agreement between the two schools to open the 2011 season should be in the offing in very short order.  And then the AQ elitists can once again commence their patented wailing and gnashing of teeth because the Broncos are "only" playing Georgia and aren't scheduling Alabama or LSU or Florida pre-2010 or…