(Why, hello, slow news day. I believe you've already met my friend, middle of June.)
As it stands currently, Michigan is only one of three Big Ten schools without a mascot — live or costumed — roaming the sidelines during games (Indiana and Illinois are the two).
Michigan athletic director David Brandon says he's open to changing that.
But before anybody goes off on the "tradition" rant, know that Michigan has tried incorporating mascots onto the sidelines periodically throughout its history. None of them, obviously, had staying power.
Here are Brandon's thoughts on trying to bring back a mascot as he looks for new ways to appeal to younger generations:
"I'm struck by the fact that when opposing teams come to our stadium, and they bring a mascot, all of our young fans are lined up to see if they can get a picture taken with it, whether it's the Penn State Nittany Lion or Sparty. That's a little annoying to me.
"You can't get your picture taken with a Block M. Mascots are really embraced by the youth demographic and we want to take advantage of that, for all the reasons that are obvious."
Perhaps the biggest obstacle, though, is finding a way to make a wolverine cuddly and fan-friendly.
"We're interested in doing a mascot but it has to be something that fans love, that children love and everyone can embrace," Brandon explained. "So far we haven't figured out a way to do it. Until we come up with something we love, we don't have a mascot."
So, in other words, not this little fella…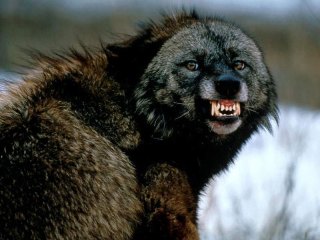 UPDATED 7:50 p.m. ET: Contrary to previous statements that Michigan was interested in forwarding mascot discussions, Brandon has now stated there "no timetable" for a fuzzy sideline pedestrian, nor current projects to create one.