Twitter really is one of the more fascinating, useful and creepy technological innovations of the last, what, decade? Couple of decades?
Regardless of how you feel about the latest and greatest social media website, it is a useful tool for individuals (or tools) to instantaneously send out their most immediate thoughts to anyone willing to follow their account.  In particular, the Twitter accounts of athletes at both the professional and collegiate level are fascinating follows, whether you're into the mundane of breakfast/lunch/supper foods or the potential for "breaking news" that may slip out thanks to the immediacy of the medium slamming headfirst into that innermost desire to vent.
The latter was the case for South Carolina wide receiver Bryce Sherman.  Or, should we say, former South Carolina wide receiver Bryce Sherman, as was played out in the player's Twitter timeline Tuesday.  And as he helped — and encouraged — the media to find the story long before his school had addressed it.
The following are a few of the tweets Sherman sent out, beginning with the alert to the media that something was going down with his status in the football program; informing his followers that the media had responded; venting a little; and ultimately ending with his thanking Gamecock Nation for their support.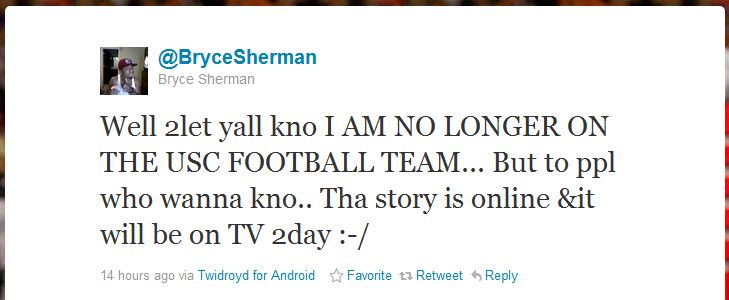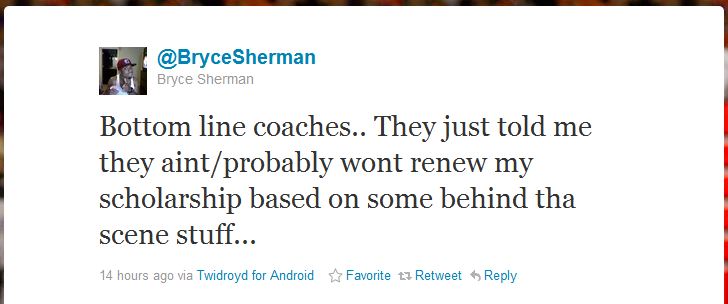 To sum all of that up, Sherman is apparently no longer a part of the South Carolina football program as he was told by the coaches that USC would not be renewing his scholarship because of behind-the-scenes stuff that you know damn-well has nothing to do with oversigning so y'all can just silence that anti-SEC noise right now.  The school, for the record, has yet to confirm his departure from the football team.
Sherman was originally on a track scholarship at the school (2008) before walking on to the football team in 2009.  In 2010, after becoming a scholarship football player, he averaged 20.4 yards on 35 kickoff returns and played in all 14 games for the Gamecocks.  He also, apparently, finishes his USC career with 11 carries for 55 yards and one reception for 48 yards.
Also, and apropos of nothing more than the David vs. Goliath nature of it, Sherman is listed at 5-4, 157 pounds on the school's official site.