Although Stanford quarterback Andrew Luck was the Heisman Trophy favorite in both the preseason and throughout much of the 2011 regular season, the Heisman race hadn't been this wide open in years.
There was a pool of about 7-8 players who all could make a case as to why they deserved to be invited to New York for the Heisman ceremony, but it came down to five: Luck, Baylor quarterback Robert Griffin III, Wisconsin running back Montee Ball, Alabama running back Trent Richardson and LSU cornerback/punt returner  Tyrann Matheiu.
In the end, though, the 77th Heisman Trophy was awarded to Robert Griffin III.
RGIII grabbed 405 of 846 first-place votes and 1,687 points to take home the trophy; Luck, was the runne- up for the second consecutive year with 247 first place points and 1,407 points; Richardson received 138 first place votes and 978 points. Ball and Matheiu finished fourth and fifth in the voting, respectively.
"This is unbelievably believable," said Griffin, who threw for 3,998 yards and accounting for 45 total touchdowns this season. "To Baylor nation, I say this is a forever moment, may we be blessed enough to have more of these in the future."
Here's how the final Top 10 voting breaks down: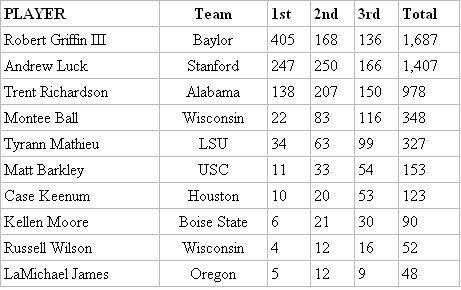 And, here's how the regions voted: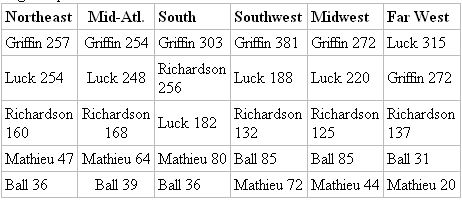 Griffin won five of six voting regions, with the exception being the Far West region, which was won by Luck.  However, votes for USC quarterback Matt Barkley and Boise State quarterback Kellen Moore cut into Luck's voting — perhaps just enough to keep last year's runner-up in the same spot this year.
RGIII, Superman socks and all (with a cape…. a cape!), is the first Baylor player to win the award; Baylor's Don Trull placed fourth in the Heisman voting in 1963. Griffin joins an elite fraternity of football players, a slideshow of which can be seen HERE courtesy of the fine folks at NBCSports.com.