Diagnosed with what was described as a treatable form of lung cancer shortly after his firing Nov. 9, the reports since have indicated former Penn State head coach Joe Paterno had been making progress in his battle against the disease.
Sadly, reports coming out of State College Saturday paint a different and decidedly grim picture of the 85-year-old's health.
BlueWhiteIllustrated.com, the Rivals.com website dedicated to cover Penn State sports, reports that Paterno is in bad shape and extended family has been called to State College due to his declining health.  OnwardState.com tweeted earlier in the evening Paterno was taken off a respirator this morning.
According to a tweet from The Citizen's Voice of Wilkes-Barre, Pa., Paterno is "gravely ill" and "near death" also confirming BWI's report that family and close friends have been summoned to the hospital to say their final goodbyes.  A subsequent report on the website, citing a staff member at the hospital in which the coach is being treated, states that Paterno's wife Sue called in family and friends after her husband said he wanted to say a final goodbye.
Shortly after the initial rumors surfaced, a family spokesperson issued a statement that only confirmed Paterno is in serious condition.
"Over the last few days Joe Paterno has experienced further health complications," spokesman Dan McGinn said in a brief statement Saturday to the Associated Press. "His doctors have now characterized his status as serious.
"His family will have no comment on the situation and asks that their privacy be respected during this difficult time."
Paterno gave his first interview since his dismissal on Jan. 12-13, speaking to the Washington Post on the Jerry Sandusky scandal as well as touching briefly on his health.  On the same day the interview was completed, Paterno was admitted to the hospital due to complications from his chemo treatment.
Jay Paterno, the coach's son and former PSU quarterbacks coach, abruptly cancelled a scheduled appearance this evening roughly an hour before it was expected to start.  The younger Paterno reportedly cited an ill wife as the reason for the cancellation.
Ron Musselman of the Pittsburgh Post-Gazette reports that State College police have put barricades around the area where Paterno's home is located.  While the police are barring vehicle traffic from the area — OnwardState.com has posted a picture on its Twitter page — pedestrians are still able to access Paterno's neighborhood.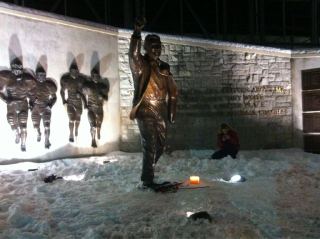 Additionally, students are beginning to gather around the Paterno statue located just outside of Beaver Stadium.  Sara Ganim of the Patriot-News posted a picture to her Twitter account of the scene around the statue earlier this evening, which can be seen at the right. The crowd around the statue is reportedly growing by the minute as students await word on on update to Paterno's condition.