Sadly, the grim reports that dominated the college football news cycle beginning Saturday evening were a precursor to the inevitable but still numbing reality: a coaching legend has passed.
A family spokesperson confirmed to the Associated Press that Joseph Vincent Paterno has died at a State College hospital at the age of 85, just over two months after being diagnosed with a form of lung cancer.  A posting to Penn State's official Facebook page read simply: "With great sadness we mourn the passing of Coach Joe Paterno…Few have done more."
Paterno passed away at 9:25 a.m. ET Sunday, and the official cause of death was metastic small cell carcinoma of the lung.
The legendary former Penn State head coach was surrounded by family and friends, who had been summoned to the on-campus hospital when Paterno's health took a turn for the worse recently.
"It is with great sadness that we announce that Joe Paterno passed away earlier today," a statement from the family read. "His loss leaves a void in our lives that will never be filled. He died as he lived. He fought hard until the end, stayed positive, thought only of others and constantly reminded everyone of how blessed his life had been. His ambitions were far reaching, but he never believed he had to leave this Happy Valley to achieve them. He was a man devoted to his family, his university, his players and his community."
A statement attributed to university president Rodney Erickson and the Board of Trustees was released shortly after Paterno's death.
"We grieve for the loss of Joe Paterno, a great man who made us a greater university. His dedication to ensuring his players were successful both on the field and in life is legendary and his commitment to education is unmatched in college football. His life, work and generosity will be remembered always.
"The University plans to honor him for his many contributions and to remember his remarkable life and legacy. We are all deeply saddened."
Paterno was born Dec. 21, 1926, in Brooklyn, NY, and, after his playing days at Brown University were complete, was hired as an assistant at Penn State in 1950.  Shortly after the 1965 season had ended, Paterno was named head coach of the Nittany Lions; for the next 46 years, Paterno lorded over Happy Valley as the face of both a football program and a university.
During his nearly five decades as head coach, Paterno accumulated 409 wins, the most in Div. I history; a record 37 appearances in bowl games; and two national championships.  As great of a coach as he was on the field, he was widely hailed as, at least until the events that have transpired since last November, an even greater man off of it, donating millions back to his beloved university and shaping the lives of untold numbers of players, coaches and other football support staff.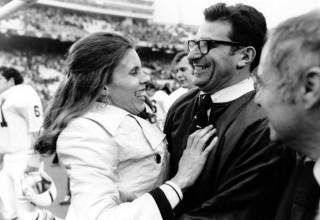 The legacy he had built in more than a half a century at the school, however, was threatened — or erased in the minds of some — by the Jerry Sandusky child-sex abuse scandal that's rocked the football program specifically and the university in general.  Mere days after his former assistant was indicted on more than 50 charges relating to the sexual molestation of underage boys, Paterno was fired by the school's board of trustees, which declared in a statement that their "unanimous judgment was that Coach Paterno could not be expected to continue to effectively perform his duties and that it was in the best interests of the University to make an immediate change in his status."
Nine weeks after his final game Nov. 5 — eerily and vaguely similar time-wise to the passing of Bear Bryant after he had coached his last game at Alabama — Coach Paterno is gone.
Our condolences go out to his family, friends and every single person touched by a helluva coach and a great-but-fallible human being who will ultimately be defined by the totality of his life, both the good and the bad.
RIP Coach Paterno.
(Photo credit: NBCSports.com)