Last year's Green Bay-Pittsburgh Super Bowl contained a couple of mini-surprises as it pertained to college football, with the MAC tied for third among all conferences with 13 former players littering the two squads' game-day rosters and Central Michigan tying for the top spot among individual schools with four ex-players in the championship game.
This year is no different when it comes to surprising roster tidbits.  Before we get to the surprises, and the non-surprises in a couple of cases, though, a little bit of technical housecleaning is in order: the totals you see below come from the official sites of the Giants and Patriots, and we've utilized the 53-man game-day rosters as well as, in a departure from last year, those on injured reserve and the eight-man practice squads.
With that clutter out of the way, and in no surprise whatsoever, the SEC and Big Ten pace all conferences with 24 and 23 ex-players, respectively, on the two teams' Super Bowl rosters.  The Giants are particularly fond of Big Ten players, with 14 of the 71 players who comprise their (active and inactive) official roster from that Midwestern conference.
The only Big Ten member that won't have a player in the game?  Minnesota.  Of the 14 teams that will compete in the SEC in 2012, 12 will be represented in Indianapolis; Missouri and Auburn are the only SEC members who won't see one of their former players on either of the two rosters.
The only other conferences in double digits are the ACC (19), Pac-12 (15) and Big East (14).  Just one Div. 1-A conference is not represented — the WAC.  Below, you can behold the magnificence of a chart — replete with colors and dots and lines and everything — showing how the two roster of the NFL clubs have been shaped collegiately: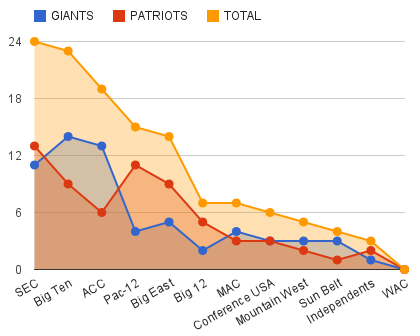 As far as individual schools go, Boston College tops all 1-A teams with six former players vying for a ring Sunday night.  Four of those players are not-so-surprisingly with the Giants; from 1991-1993, Tom Coughlin served as the Eagles' head coach, so the Giants' sideline boss certainly hasn't forgotten his BC roots.
Rutgers and Michigan are each represented by five players, while Florida, Fresno State, LSU, Miami and Virginia will have four apiece.
The Sun Belt's Troy, in another surprise, will have three players in the game, along with Arkansas, Michigan State, Ole Miss, Penn State, Purdue and Tennessee.  All told, 31 1-A teams will be represented by at least two players.
(Writer's note: Fresno State (MWC), Missouri (SEC), TCU (Big 12), Texas A&M (SEC), UMass (MAC) and West Virginia (Big 12) were included in their new 2012 conference homes.  And, yes, I'm well aware of the uncertainty surrounding WVU's move from the Big East.)