In April of 2010, the Alabama Crimson Tide's 2009 BcS championship was honored with a paint scheme on David Reutimann's Toyota (pictured) at NASCAR's Talladega spring race.
The next year at the same track, Auburn 2010 title team was honored in a similar manner.  This year, it's the Tide's (left) turn yet again… with a very, very cool twist.
This Sunday at Talladega, a track that definitely has SEC speed, a Crimson Tide paint scheme will adorn the No. 15 Michael Waltrip Racing Toyota driven by Kansas native and lifelong Jayhawk fan Clint Bowyer, who has won the past two fall races at this weekend's track.
"I'm a pretty big KU fan," Bowyer said according to SPEED.com. "I think everybody knows that. But the Alabama partnership came along with [sponsor] Aaron's, and the SEC partnership that they have after they had Alabama on it, and winning the national championship this year. Certainly [I'm] a KU fan, but respect all athletics and certainly respect what they've accomplished in the past years. It's going to be fun to have the Alabama colors for one day."
The paint scheme's not the really cool part, though.  The helmet Bowyer will wear?  That is: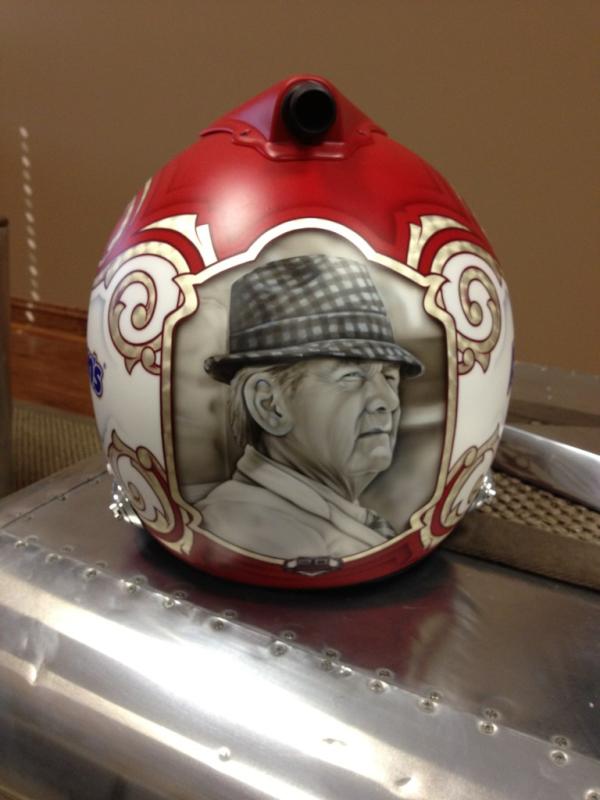 That.  Is.  Awesome. (And courtesy of Bowyer's Twitter feed)
I'm a NASCAR diehard and Junior fan through and through, but I'll admit that it'd be pretty damn cool to see that helmet in Victory Lane, especially at a track in the state of Alabama just over 100 miles from the coaching legend's old stomping grounds.
Precedence, though, suggests that's a fairly long shot at what's annually a crapshoot of a race.  Reutimann drove the original Tide-themed car to a 14th-place finish, while Michael Waltrip was one lap down and in 28th place at the end in the Tigers-themed car.
(Tip O' the Cap: Orlando Sentinel)