Prior to becoming a sure-fire, first-ballot NFL Hall of Famer with the San Diego Chargers, Junior Seau was an All-American linebacker at USC and one of the fiercest, most instinctive players at his position to ever grace a collegiate field.
Sadly, and as you have no doubt heard in some way, shape or form by now, Seau's life ended earlier Wednesday at the age of 43, reportedly by a self-inflicted gunshot wound to his chest.
The how's and why's and myriad other difficult, painful questions will be raised in the coming days and weeks, but, for now, Seau's death has left a huge extended family grieving and grasping for answers to the unanswerable.  In statements released by USC shortly after Seau's death was confirmed, both athletic director Pat Haden and head coach Lane Kiffin touched on a loss that's reverberated across the sports world.
"We are tremendously saddened to hear this news and our hearts go out to his family and children," Haden said in his statement regarding a player whose final season at USC in 1989 ended with unanimous first-team All-American honors. "Junior Seau was one of the greatest legends in USC football history.  He will always be remembered by USC as the original No. 55."
"This is a very sad day.  The USC football program and the entire Trojan Family extends our condolences to Junior's family," Kiffin said of Seau, who leaves behind three children. "He was one of the greatest Trojans of all-time.  Our team and fans were very fortunate to see him just a couple of weeks ago at our Spring Game at the Coliseum.  He will be deeply missed."
Trojans past and present took to Twitter as well in the immediate aftermath of the stunning news, sharing their thoughts on the loss of one of the all-time greats in the storied history of USC football: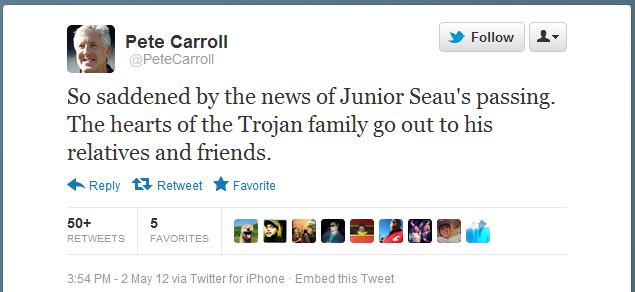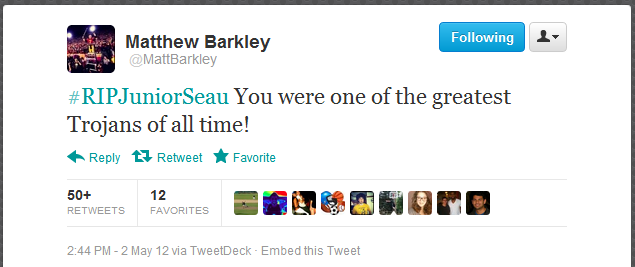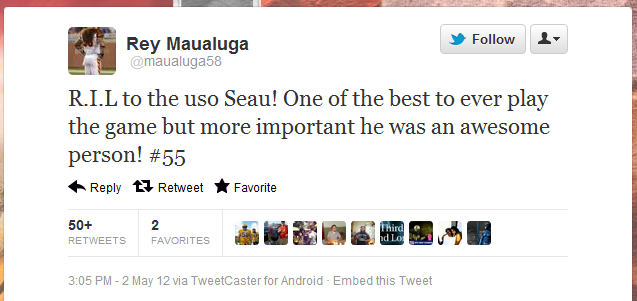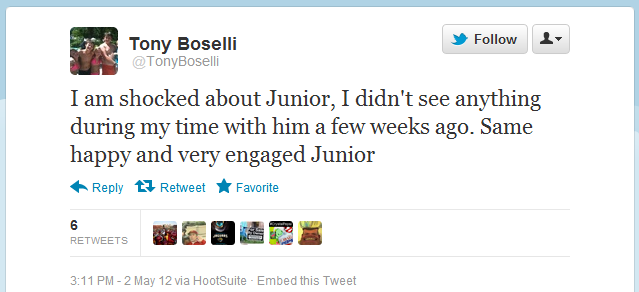 [youtube=http://www.youtube.com/watch?v=pR67bL-7As0&feature=player_embedded]