As is the case each and every season, each and every week, any omission below is not on purpose, it's merely intentional.
WINNERS
Not geauxing away quite yet
Left for dead by some following a 14-6 loss to then-No. 8 Florida last weekend, LSU faced an equally stiff test in unbeaten and third-ranked South Carolina… and passed with the gritty flair only a Les Miles-coached team can muster.  Down 14-10 in the fourth quarter and struggling again points-wise on offense, the Tigers "exploded" for 13 unanswered points to get themselves right back in the SEC West picture with a 23-21 win.  The math for LSU is simple: win out, and the Tigers will, for the second straight year, represent the West in the SEC championship game.  While the math is simple, the actual execution is a tad more difficult as, in the next three weeks, the Tigers will face No. 22 Texas A&M in College Station, and No. 1 Alabama and No. 19 Mississippi State at home.  Given where the Tigers were just a week ago this morning, however, I think Miles feels good about his team having the ability successfully navigate that daunting scheduling gauntlet.
Tide rolls… again
And the beat goes on for the 2012 edition of the No. 1 Alabama Crimson Tide.  With their 42-10 woodshedding of Missouri, the Tide has now outscored its opponents this season 243-45 in their six wins.  In the win over Mizzou, the Tide's defense gave up 152 yards of total offense — the Tigers had been averaging 356 per game — and allowed a miserly .9 yards per carry (26 yards on 28 attempts).  Alabama has conference games the next two weeks against Tennessee (away) and No. 19 Mississippi State (away) — WARNING TIDE: DANGER AHEAD — before heading to Death Valley for its highly-anticipated re-rematch with No. 9 LSU. Based on how the first half of the regular season has gone, and especially based on Gary Pinkel's postgame comments (see below), those may be little more than bumps in the road on the Tide's way to, first, Atlanta and then south to Miami.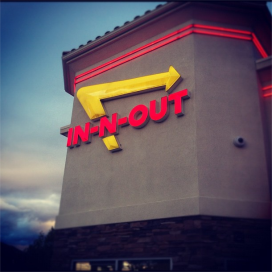 Niiice Beaaavers
Coming off a win over Washington State that propelled them into the Top 10 for the first time in several seasons, No. 10 Oregon State was brought back to earth with news that star quarterback Sean Mannion would miss several weeks due to injury.  While some thought this weekend's game against a BYU team that had given up just 10 points the last three games made the Beavers ripe for an upset, Cody Vaz would have none of that.  All the junior did in place of Mannion was throw for 332 yards and three touchdowns — and no interceptions — in a 42-24 win over the Cougars that marked Vaz's first career start at the collegiate level and assured yet another stop at In-N-Out.  Vaz proved the top-10 stage was not too big for him, which is a good thing for the Beavers as he's expected to be under center for an extended period of time.
Pluck of the Irish
Yes, it was ugly, old school (old man?) football played in the rain.  Yes, it wasn't without a controversial ending (writer's note: it should've been touchdown, Stanford).  Yes, in non-italics, it was a bad call on the part of the Pac-12 officials working the game.  Despite all of that, No. 7 Notre Dame's 20-13 overtime win over Stanford was yet another data point heavily intimating that, by gosh, the Irish may indeed be back.  Three of Notre Dame's six wins have come against teams that were, at game time, ranked inside the Top 20, including the No. 17 Cardinal.  Certainly to some degree the luster is off wins over Michigan and Michigan State given their recent performances, particularly the latter, but it doesn't change the fact that all the Irish continue to do is find a way to grind out a win week after week after week.  Are they BcS-worthy?  That's for coaches, Harris voters and computers to decide.  What's not up for debate is the fact that Brian Kelly has the Irish, at minimum, ready to turn a corner that will lead them back toward the national discussion.
Badger Up!
Thanks to NCAA sanctions levied on Ohio State and Penn State — the only unbeatens amongst the Leaders in Big Ten play — the Wisconsin-Purdue game set up as a battle for first place in the division.  Thanks to Montee Ball, it was a Grenada-style battle for the Badgers.  The senior rushed for a season- and career-high 249 yards — the Badgers as a team rushed for a season-high 467 yards — and three touchdowns, setting a Big Ten career mark in the process.  Even as Wisconsin is just 2-1 in conference play with five games left, they are firmly in control of their own Indianapolis destiny as the other three post-season-eligible teams in the division — Purdue (0-2), Illinois (0-3) and Indiana (0-3) — are winless and, most importantly, largely hapless.  The season began with UW widely expected to easily punch its ticket to the Big Ten championship game in early December; while it's been rougher than expected, that's exactly the tack on which the Badgers currently find themselves.
One if by air… x3
Navy came into Friday night's game with Central Michigan tied for dead last among the 124 FBS teams — Army and New Mexico being the others — with just one touchdown pass through five games.  So, of course, Midshipmen quarterback Keenan Reynolds went out and tossed three touchdowns in the 31-13 win over the Chips.  Reynolds, making his first collegiate start no less, became the the first Navy signal caller to accomplish that feat since Chris McCoy against Colgate in 1997, and was just one of the school record set by Tom Forrestal way back in 1957.
LOSERS
The defense rests, as does WVU's title hopes
You just knew that, at some point this season, No. 5 West Virginia's "defense" would cost the Mountaineers at least one game.  That point came Saturday in Lubbock, although the much-maligned defense had some help from an unexpected source.  Yes, the Mountaineers gave up 676 yards to Texas Tech in the humiliating 49-14 loss, but it was the play of Geno Smith that was the most surprising aspect of the upset that effectively ends WVU's BcS title hopes.  Coming into the game as far and away the Heisman favorite, Smith, simply put, imploded in the Lubbock winds.  Smith was held to just 275 yards passing, his second-lowest total of the season (268 against Texas last week), and he misfired on 26 of his 55 attempts; coming into the game, he had just 38 incompletions combined the first five games of the season.  Yes, he went without interception yet again, but, whatever part of the blame for the loss that isn't put on the defense needs to be placed squarely on Smith's right arm.  And that object sitting atop his neck.
Red River Blowout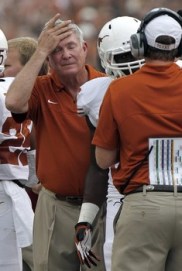 For all the talk through the first few weeks of the season that Texas is "back" after a couple of non-UT-like years, the Longhorns have answered in resounding fashion the past two weeks that "hell no we ain't," at least against top-flight competition.  In back-to-back games against West Virginia and Oklahoma, a defense that was expected to be the linchpin of UT's return has instead been eviscerated to the tune of 111 points and 1,137 yards of total offense.  The Sooners' offense accounted for 63 of those points and 677 of the yards in the iconic rivalry game that wasn't even as close as the 63-21 final score would indicate.  After starting the 2012 season 4-0 and reaching as high as No. 9 in the coaches' poll, the Longhorns have all but officially been eliminated from any shot at its first Big 12 championship since 2009.
Reversal of misfortunes
Needing just one win to become bowl eligible for the first time since 1994, Duke jumped out to a 20-0 lead on Virginia Tech with 3:12 left in the first quarter.  In the final 48:12, however, the Blue Devils were outscored 41-0 as the Hokies came roaring back to slightly spoil one of the cooler stories of the 2012 season.  While the Blue Devils could still very well become bowl eligible at some point prior to the end of the season, their remaining schedule — home games with North Carolina, Clemson and Miami, road trips to Florida State and Georgia Tech — says that could be easier said than done; in the past eight years, Duke is 1-31 against those five schools, with the lone win coming against Clemson in 2004.
LaTech bandwagon
Numerous, numerous media types, and also people such as myself, had been pushing for what we saw as an underappreciated Louisiana Tech squad to be included in the Top 25 rankings.  When the Lil' School That Could actually landed in the latest set of rankings, we all did a little nerdy happy dance.  A week later?  Yeah, not so much, although it wasn't for a lack of effort on the scrappy Bulldogs part.  After digging themselves a 27-0 hole late in the second quarter, Tech came back to within a two-point conversion of tying the game at 59-all with :38 seconds left in the game.  A failed conversion and unsuccessful onside kick, though, ended any hope of a miraculous comeback and an upset win over the No. 22 team in the country.  Even in the loss, though, Tech head coach Sonny Dykes likely made himself a hell of a lot of future money, whether it be at his current school or when the next spinning of the coaching carousel comes to an end.
TOP 25 TOO-CLOSE-FOR-COMFORT
How ranked teams endured close shaves vs. unranked opponents
— No. 4 Florida 31, Vanderbilt 17: With 2:35 left in the fourth quarter, the Gators led the Commodores 24-17.  A 70-yard Jeff Driskel touchdown run 15 seconds later, however, iced the game for UF.
— No. 6 Kansas State 27, Iowa State 21: Taking down the giant-slaying Cyclones, in Ames no less, was no small feat for Bill Snyder's Wildcats.  If anything, this game should show voters that K-State is indeed the real deal and in this title chase — Big 12 and otherwise — for the long haul.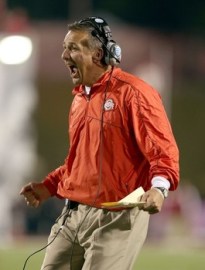 — No. 8 Ohio State 52, Indiana 49: The Buckeyes twice held 18-point fourth-quarter leads, but two touchdowns by the Hoosiers in a span of 35 seconds with under two minutes remaining closed the gap to three.  An IU attempt at a second straight onside kick recovery was unsuccessful and OSU held on for a very strange, odd win.
— No. 10 Oregon State 42, BYU 28: The Beavers were actually down by four with just under nine minutes left in the game before a pair of touchdowns effectively put the game out of reach.
— No. 11 USC 24, Washington 14: Twice in the past three seasons, the Huskies have handed the Trojans losses.  A 24-point first half ensured it wouldn't happen three times in four years.
— No. 18 Louisville 45, Pittsburgh 35: While the final tally indicates a somewhat comfortable double-digit win, the Cardinals actually trailed at halftime before pulling away with four unanswered touchdowns in the second half.
— No. 19 Mississippi State 41, Tennessee 31: After the Vols had gotten back to within three with under six minutes left, the Bulldogs threw the final knockout punch with :09 seconds left to maintain its unblemished record.
— No. 20 Rutgers 23, Syracuse 15: It was far from pretty, but the Scarlet Knights were able to remain unbeaten with a gritty Big East win over the Orange.
— No. 24 Boise State 20, Fresno State 10: The Broncos are this week's winner of our "win is a win is a win" award.
CFT TOP FIVE
A snapshot look at how my ballot would look Monday if I, ya know, had a real vote instead of a measly and meaningless preseason poll.
1. Alabama — The Tide's 42-10 throttling of hapless, in-over-their-heads-in-the-SEC Mizzou in the Columbia rain will do nothing to curb the sense that UA's on an inexorable march toward back-to-back BcS titles and three in four years. (Last 5Q: No. 1)
Up next: at Tennessee
2. Oregon: The Ducks' bye weekend did nothing to sour just about anyone on their standing in the polls. (Last 5Q: No. 2)
Up next: at Arizona State
3. Florida: The win over LSU last weekend looks even more impressive after viewing it through the prism of the Tigers' win over South Carolina this weekend. (Last 5Q: unranked)
Up next: vs. No. 3 South Carolina
4. Kansas State: Any team that can go into Ames as a highly-ranked team and beats a Paul Rhoads-coached squad deserves high praise, regardless of the margin of victory. (Last 5Q: No. 4)
Up next: at No. 5 West Virginia
5. Oregon State: Surprised?  Just watch where the BcS computers place the Beavers Sunday night.  (Last 5Q: unranked)
Up next: vs. Utah
COACHING HOT SEAT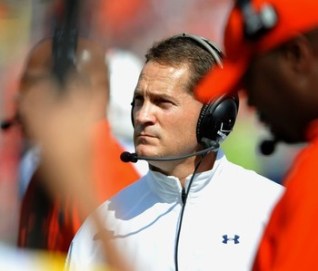 A weekly look at some of the current head coaches who could most likely be an ex-head coaches by season's end — if not sooner.
— Auburn's Gene Chizik: 14-0 with Cam Newton, 22-34 without the Heisman winner in his collegiate coaching career.  A 1-5 start to this season has included back-to-back laughably embarrassing losses to moribund SEC West teams Arkansas and Ole Miss.  Chizik was also infamously 5-19 in two seasons at Iowa State; his replacement, Paul Rhoads, has gone 22-22 in three-plus seasons.  Buyout or not, and barring an abrupt turnaround that's seemingly not in the cards, it would defy logic for Chizik to make it to 2013.
— Kentucky's Joker Phillips: 1-5 on the season, 12-19 in his two-plus seasons in Lexington.  And the loss to Arkansas may have been the low point; not only did the Wildcats surrender 533 yards of offense in the 49-7 loss, they did so in less than three full quarters of play as the game was called with 5:03 left in the third quarter due to weather.  Out of all the ones who may be on the proverbial hot seat, there appears to be a very significant chance that Phillips, as nice a guy as he is, will be among the first — if not the first — FBS head coach to get the ax in 2012.
HE SAID IT
"That is maybe the best football team I've ever seen. We will see, but I watched the film and couldn't find a weakness." — Missouri head coach Gary Pinkel, talking after Alabama's 42-10 dismantling of his Tigers.
HE SAID IT, THE SEQUEL
"This is truly a place where opponents' dreams go to die." — LSU head coach Les Miles, following the Tigers win over South Carolina in Death Valley.
YOU DON'T SAY?
With 72 career touchdowns, Wisconsin's Montee Ball now trails just Ricky Williams of Texas (75) and Travis Prentice of Miami of Ohio (78) for the most in FBS history.
FOR STATISTICAL PURPOSES ONLY
— After Week 7 of the 2012 season, there are 16 teams that are bowl eligible — 10 from BcS conferences, five from non-BcS conferences.  The 16th?  Football-independent Notre Dame.
— The Texas A&M-Louisiana Tech game featured several spectacular individual performances as one could expect from a 59-57 shootout.  Aggies' freshman quarterback Johnny "Johnny Football" Manziel accounted for 577 yards of total offense and six touchdowns (three passing, three rushing), the former breaking his own school and SEC marks set earlier this year.  In a losing effort, Tech wide receiver Quinton Patton caught 21 passes — yes, 21 — for 233 yards and four touchdowns.
— In that game, A&M and Tech combined for 1,306 yards of total offense — 690 for the former, 616 for the latter.  The Aggies were also penalized a whopping 19 times for 175 yards.
— With Texas Tech's upset win over No. 5 West Virginia, Tommy Tuberville is now 6-2 in his career in games vs. teams ranked in the Top 5.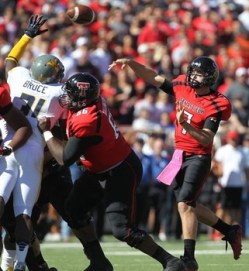 — In that win, Red Raiders quarterback Seth Doege threw for 499 yards and six touchdowns.  Doege now has 21 touchdowns on the season, 49 in his last 18 games.
— Eddie Lacy ran for a career-high 177 yards on 18 carries and three touchdowns in Alabama's win over Missouri.
— Jeremy Hill's seven-yard touchdown run in the third quarter of the game against South Carolina was LSU's first against an SEC foe since the fourth quarter of last year's SEC championship game.  That's a span of 14 quarters and 315 days, incidentally.
— In the first two games of the season, Mark Weisman rushed for eight yards on two carries.  In the four games since, the Iowa running back has rushed for 507 yards and seven touchdowns.  His 116 yards — his fourth straight 100-yard game — helped the Hawkeyes to an double-overtime win over Michigan State.
— Oklahoma running back Damien Williams' 95-yard touchdown run vs. Texas was the longest in the storied history of the Red River Shootout.
— In their game against Kentucky, Arkansas quarterback Tyler Wilson threw for 331 yards and four touchdowns in the first half.  For the weather-shortened game, Wilson finished with 372 yards and five touchdowns in the 49-7 win.
— In a literal homecoming game against Miami, Giovani Bernard rushed for 177 yards and two touchdowns in North Carolina's 18-14 win over the Hurricanes.
— EJ Manuel threw for a career-high 439 yards and four touchdowns in No. 12 Florida State's 51-7 waxing of Boston College.
— Silas Redd, a transfer from Penn State, rushed for a season-high 155 yards in USC's win over Washington.
— With 149 yards in the close win over Indiana, Ohio State quarterback Braxton Miller has now rushed for 100-plus yards in all three Big Ten games and in five of the Buckeyes' seven wins this season.  He's also just 88 yards away from eclipsing the 1,000-yard plateau for the season.
— Arizona State sophomore quarterback Taylor Kelly (no relation) tossed five touchdown passes in the Sun Devils' 51-17 thumping of woeful Colorado Thursday night.  Kelly now has 11 touchdown passes the last three games after starting the season with just three in his first three games.
— The 402 points career points for Florida State's Dustin Hopkins are the most in ACC and fifth in NCAA history.
— Utah State's defense was credited with a school-record 13 sacks in the Aggies' dominating 49-21 win over San Jose State.  USU had just 14 sacks entering the game.
— The attendance for the Kansas State-Iowa State game officially announced at 56,800, making it the largest crowd to ever watch a college football game in Ames.
SIGN OF THE APOCALYPSE
Through seven weeks of the season, Maryland (2-0) is the only ACC team without a loss in conference play.  Yep, the Mayans were right…