To show just how unpredictable the 2012 college football season has been, only Kansas State quarterback Collin Klein had preseason odds to win the Heisman — a pretty 75/1 odds at that*  — of the three finalists this evening.
However, Klein, Texas A&M quarterback Johnny Manziel and Notre Dame linebacker Manti Te'0 have all had remarkable years that earned them an invite to New York. By no coincidence, the three teams these players represent are a combined 33-3 and one (Notre Dame) will play in the BCS championship next month.
But in the end, the 78th edition of the trophy went to Johnny Manziel. The redshirt freshman has been among the most exciting players in college football on one of the most surprising teams in college football. Manziel leads his team in rushing and passing and has 43 total touchdowns to his name this year.
Manziel becomes the first freshman ever and the second A&M player (John David Crow, 1957) to be added to the Heisman fraternity.
Manziel's youth didn't deter voters. Manziel totaled 474 first-place votes, Te'o had 321 and Klein had 60. Manziel also won five of the six voting regions, notably winning both the South and Southwest regions. You can thank conference realignment for that.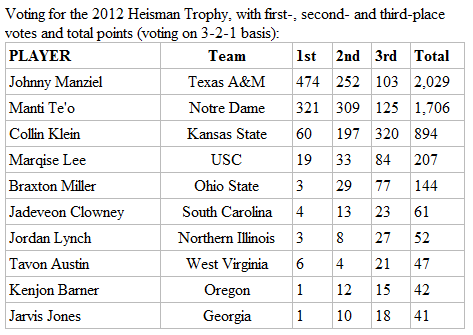 (*Hat tip to our pal, @KegsnEggs, for that little bit of Heisman information)