And, no, it has nothing to do with anything negative.  Unless you happen to be the NCAA or certain conference commissioners, of course.
As if he hadn't already transcended the game of college football enough, Johnny Manziel has now found himself gracing the cover of the most recent issue of the iconic Time magazine.  The cover featuring Manziel, with the title "It's time to pay college athletes," pushes hot-button issues such Syria and Russian president Vladimir Putin to mere footnotes above his Heisman-esque photo.
Bruce Feldman of CBSSports.com notes that Manziel is the first college football player on the cover of Time since Notre Dame's Terry Hanratty and Jim Seymour 47 years ago.
Below is the latest cover of a magazine featuring Manziel, courtesy of Time's Twitter feed: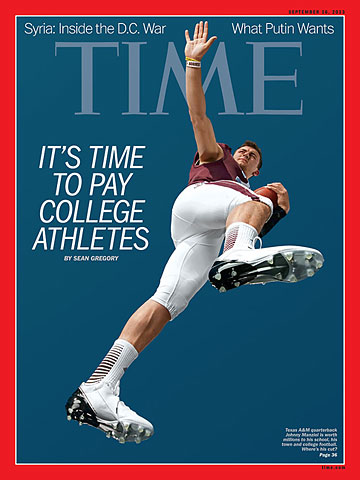 As for the substance of the article — which we've discussed on this site ad nauseam — you'll have to buy the magazine to read the piece in its entirety or subscribe online.  The magazine's website does, though, provide a brief synopsis of what you can expect on an issue that is — right or wrong — simply not going away.  Or, as Time writes, "[c]hange, in some form, is coming to college sports":
Schools and big-time conferences are signing lucrative television deals. Some are even starting their own TV networks, which could be cash cows. But as revenues have expanded over the last decade–and will continue to expand into the next one–a fair share should go to the players. "The rising dollar value of the exploitation of athletes," says noted Stanford sports economist Roger Noll, "is obscene, is out of control."

In fairness, college players are compensated, with scholarships that can be worth over $100,000 over four years at some schools. That's an attractive package. But given the time demands on major college athletes–40 hours per week plus in season–that naturally conflict with education, college should have the option to offer more. Schools could also allow athletes to secure sponsorships–that's how Olympic athletes capitalize on their abilities. "Lifting the restriction on athlete commercial opportunities is a great step toward compensating them for the value they create," says Warren Zola, assistant dean of the Carroll School of Management at Boston College and an expert in college sports and business law. "And it doesn't cost the schools anything."