There is little doubt that Bill Snyder is one of the classiest and most gracious individuals to ever grace a college football field.
The latest example of his that?  Kansas State was stunned on its home turf in the season opener by FCS-level North Dakota State.  While the 24-21 loss was certainly a shock, Snyder took it in stride and took to a form of communication that he still dearly loves: the hand-written note.
That's right, Snyder penned a letter to NDSU Brock Jensen , who was responsible for all three of his team's touchdowns in the game, congratulating him on the huge win for the program.
"Congratulations Brock," Snyder's note on KSU letterhead began. "I was truly impressed with you & your teammates.  You played so very well, virtually error free & with such poise.  I wish you a great year & hope you achieve all you desire.  Please share my thoughts w/your teammates.
"Warm Regards, Bill Snyder."
A photo of the note was subsequently posted to Twitter: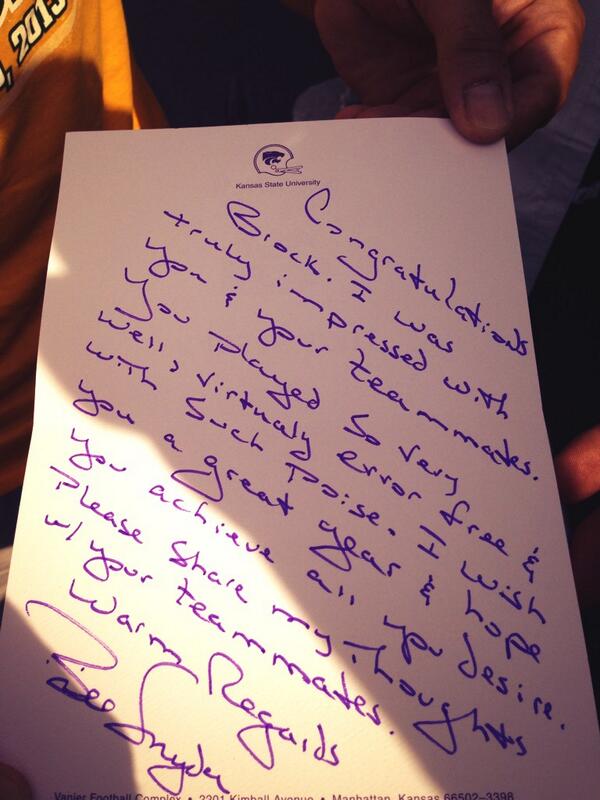 Bravo, Coach Snyder.  Bravo.  The game of college football is a better one because you're a part of it.
(Tip O' the Cap: the Wichita Eagle)