TMZ is reporting that Florida State's athletic department sent a cease-and-desist letter to a fan selling Jesus-themed t-shirts featuring a likeness of Seminoles freshman quarterback Jameis Winston.
The fan reportedly sold 100 of his 'Chosen One' t-shirts for $20 each during the season's second week. This caught the attention of FSU, which could potentially run into trouble with the NCAA if it doesn't do enough to stop such practices.
Here's a look at the shirt: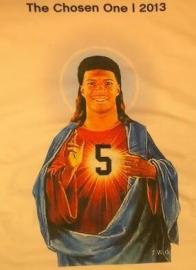 Of course it doesn't help that a lot of people around Tallahassee (and elsewhere) see the shirt as being a tad sacrilegious as well. Plus, I think Jesus would do a lot better than 10 of 19 against Bethune-Cookman, so perhaps we should hold off on such comparisons for now.