Sadly, an accident at Texas A&M's Kyle Field has claimed the life of a construction worker.
It has been confirmed that 25-year-old Angel Garcia died as a result of injuries sustained in a four-story fall from the north end of the football stadium Tuesday morning.  Kyle Field is currently undergoing a $450 million renovation, and Garcia was performing demolition work for a subcontractor on the project.
"The thoughts and prayers of all of us at the A&M System and within the Bryan and College Station community are with the Garcia family," A&M system chancellor John Sharp said in a statement.
There is yet no indication what led to the fall.  A photo that appeared in the Bryan-College Station Eagle shows the area from which Garcia reportedly fell being barricaded by workers: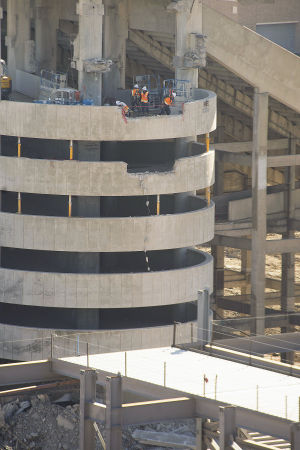 The Associated Press wrote that the "Occupational Safety and Health Administration [OSHA], the Texas A&M University System and university police are investigating the accident."