If you ever wanted a microcosm of spring football games — and how they've evolved into more about entertainment than actual practice — may we direct your attention to Lincoln, Nebraska.
The ever-serious Bo Pelini, who's never met a hat he didn't want to throw or player whose ear he didn't want to chew on, was getting set to lead his Cornhuskers out of the tunnel and onto the Memorial Stadium turf.  As the camera began to pan to the team as it prepared its entrance, with the crowd getting amped up and ready for their beloved Big Red to hit the field… wait a minute… it's a little fuzzy, but is that what I think it is…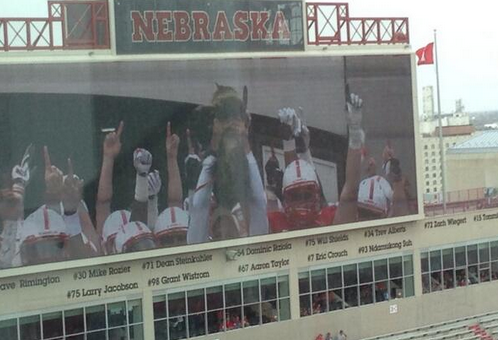 No, it can't be.  Then again…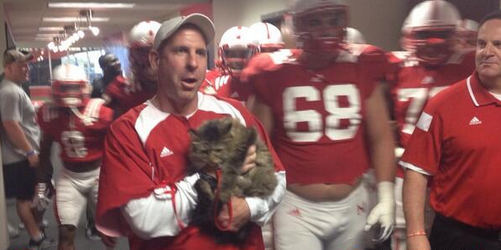 Yep, it is.  Bo Pelini, head coach of the Nebraska Cornhuskers, gently holding a cat in the second photo and seemingly recreating the Lion King's "Circle of Life" moment in the first.
For Pelini's Twitter alter ego, it was game-set-match for the head coach.
.@BoPelini Fine, you can keep her

— Faux Pelini (@FauxPelini) April 12, 2014
(For those unaware of the Bo Pelini/Faux Pelini/Cat dynamic, you can click HERE to catch up on it a bit)
While it didn't create the dusty atmosphere last year's spring game did, Pelini dropping his guard and having a little bit of fun — after a very, very turbulent 2013 season — should be seen as a very, very good sign for the Husker faithful.
(Photo credit: Fake Bo Pelini's Twitter account)