The watch list for the Maxwell Award, presented by the Maxwell Football Club, has been released and it includes many of the top offensive players in the country.
Florida State quarterback Jameis Winston was an obvious name to include on the watch list. He is the lone returning 2013 Maxwell Award finalist this season and is the reigning Heisman Trophy winner. Other 2013 semifinalists appearing on the list include Wisconsin running back Melvin Gordon, Oregon State quarterback Sean Mannion, Oregon quarterback Marcus Mariota and Baylor quarterback Bryce Petty.
Semifinalists for the Maxwell Award will be announced November 3, 2014. From that group, three finalists will be announced November 24, and the winner of the 2014 Maxwell Award will be announced December 11 during the annual Home Depot College Football Awards Show. The formal presentation of the award will take place during an annual banquet in Atlantic City, New Jersey on March 6, 2015.
The Maxwell Award has been presented to the top college football player in the country as determined by the Maxwell Football Club on an annual basis since 1937. The winner is not always the same player to win the Heisman Trophy. Where the Heisman Trophy has seen a share of underclassmen win the award over recent years, the Maxwell Award has a knack for going to upperclassmen. Last year's winner was Alabama quarterback A.J. McCarron. Penn State and Notre Dame are tied for the most Maxwell Award winners with seven each. Ohio State, Texas and Navy each have four.
Here is the 2014 Maxwell Award watch list: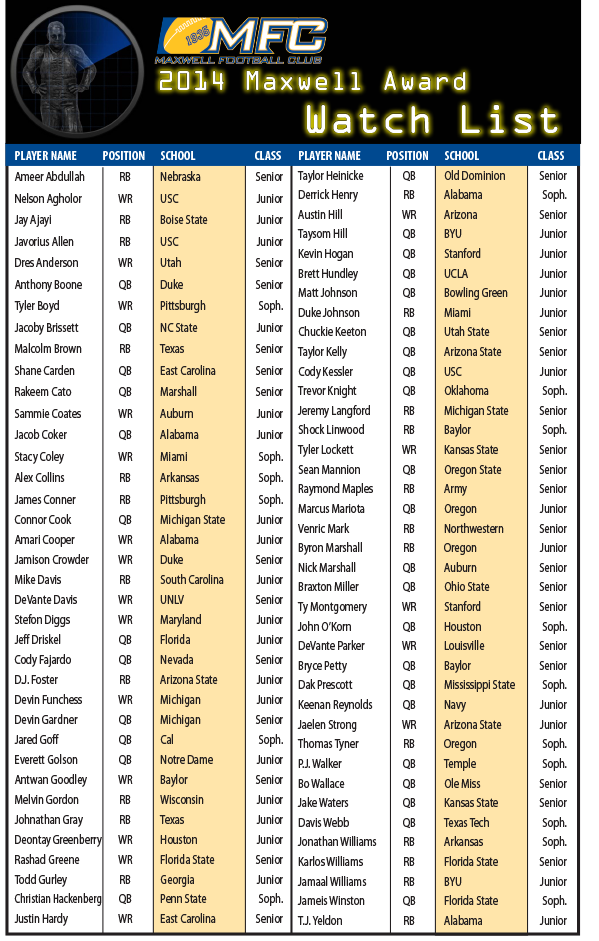 The Paul Hornung Award watch list was also released today.