Defending national champion Florida State held its football media day today. As part of the media day fun, Florida State allowed fans to ask questions to Jameis Winston, the 2013 Heisman Trophy winner and two-sport star in Tallahassee.
Questions were welcomed via Twitter using the hashtag #AskJameis.
#Noles Fans: Do you have a question for our starting QB Jameis Winston? Tweet us using #AskJameis.

— FSU Football (@FSU_Football) August 10, 2014
As we learned during the infamous #AskEmmert episode a few months ago, this often leads to a series of sarcastic attempts at humor in response. This request for questions for the reigning Heisman Trophy was no exception. Observe.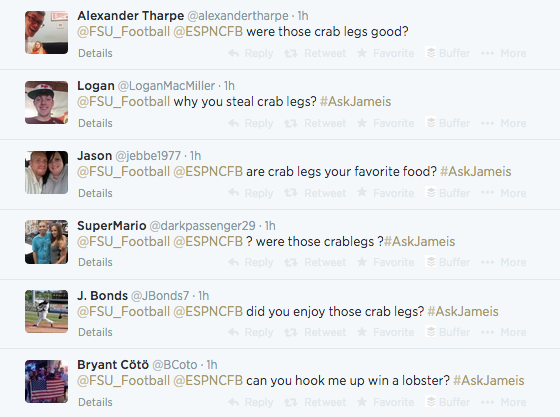 There were plenty of legitimate football questions that made it past the screeners handling the online Q&A (with questions being handpicked for a press conference setting), such as how the new backup center is working out and which game he is most looking forward to this season. But those were clearly outnumbered by canned jokes about seafood and some even more disturbing and less sensitive tweets regarding Winston's connection to an investigation for an alleged sexual assault. When it comes to Twitter, this is when things can be quick to turn south.
Of course, #AskJameis was a top trending topic in the United States on Twitter regardless of the outcome, and in the world that thrives on social networking and exposure, that is still a win for Florida State's social networking strategy. There is perhaps no way those responsible for the Twitter chat Sunday morning could not have predicted this sort of result. While most of the Twitter strategy will be considered a joke, Florida State will get to say Winston's chat was a top trending topic in the United States, and sometimes that is all that matters on Twitter.