Earlier this month, running back Jamal Williams confirmed he would be suspended for the season opener because of an undisclosed violation of team rules.
Based on a social media post, it appears Williams won't be alone.
On Twitter Monday evening, wide receiver Devon Blackmon revealed that he too will be suspended for the opener against UConn Aug. 29. Blackmon apparently also violated an unspecified team rule.
It should be noted that BYU has yet to confirm or deny Blackmon's availability for the opener.
"Rules are rules … Abide by them or suffer the consequences … Looking forward to the Texas game," Blackmon initially wrote on Twitter.
The actual reason for his suspension? The receiver was kind and gracious enough to tweet that out as well.
"[Y]ea, We have team standards, and there's consequences if you don't follow them, I shouldn't wear earrings But I'll bounce back," the player explained.
(Writer's note: both of those tweets have subsequently been deleted from Blackmon's account.)
And, yes, BYU's very strict honor code — you can read the 2013-14 version HERE if you're interested in knowing what every single student-athlete in every sport knows they're signing on for — deals with the male species and piercings.
Men

A clean and well-cared-for appearance should be maintained. Clothing is inappropriate when it is sleeveless, revealing, or form fitting. Shorts must be knee-length or longer. Hairstyles should be clean and neat, avoiding extreme styles or colors, and trimmed above the collar, leaving the ear uncovered. Sideburns should not extend below the earlobe or onto the cheek. If worn, moustaches should be neatly trimmed and may not extend beyond or below the corners of the mouth. Men are expected to be clean-shaven; beards are not acceptable. Earrings and other body piercing are not acceptable. Shoes should be worn in all public campus areas.
The best part of this whole story? Blackmon's photo on his BYU signing-day profile shows him with rather large earrings in both ears: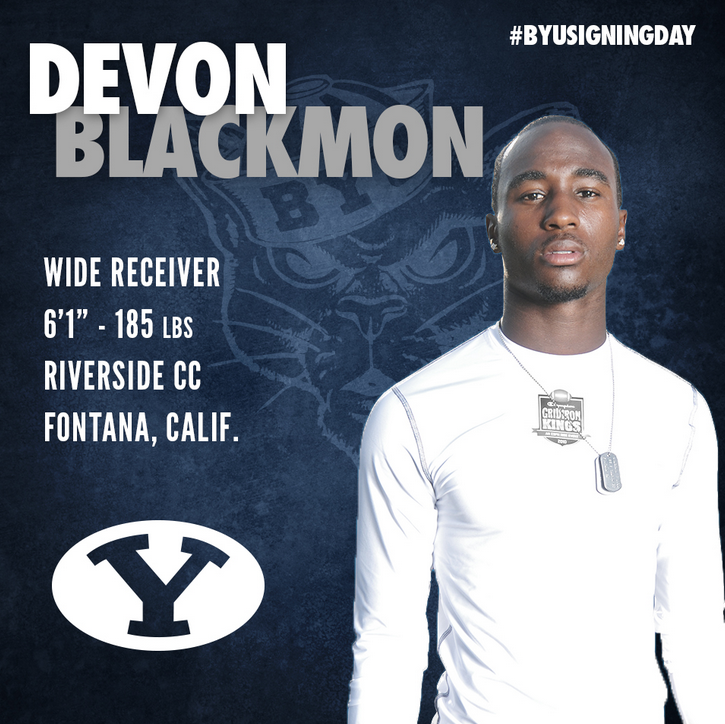 OK then.
Anyway, this will be Blackmon's first season back at the FBS level after a year away.
Blackmon was a four-star member of the Oregon's 2011 recruiting class, rated as the No. 5 receiver in the country by Rivals.com. He decided to leave the Ducks in mid-November of 2012, with his initial destination rumored to be Washington.
Instead, the 6-1, 185-pound receiver spent the 2013 season at the JUCO level. He was also a four-star prospect this time around as well.
This is the second hit the Cougars' receiving corps has taken in the past few days. Last week, Nick Kurtz, a projected starter who's also a 2014 JUCO transfer, suffered a stress fracture in his left foot. As a result, he'll miss 6-8 weeks as he recovers.