O-H!  UH-OH!!!
Unfortunately for Ohio State and the fans of its football team, their worst fears have been realized as OSU announced today that, as widely expected, starting quarterback Braxton Miller will miss the entire 2014 season.  Miller, the two-time Big Ten Offensive Player of the Year reinjured his right(throwing) shoulder during practice Monday, with at least a couple of reports indicating that the he suffered a dislocated shoulder on a throw in which there was no contact.
"My thoughts and prayers are with Braxton and his family," Ohio State head coach Urban Meyer said in a statement. "This is an unfortunate injury to a young man who means so much to this program and to Buckeye nation."
Other than he reinjured the same shoulder, the school declined to acknowledge the specific nature of the injury. They did allow that it was a non-contact play and the injury will require surgery to repair.
There is not timetable as of yet for surgery or a return to football activities.
Former Ohio State All-American wide receiver Joey Galloway, who was at yesterday's practice, "said the injury to Braxton occurred on a rollout throwing a short pass toward the sideline."
"He didn't even get hit," a source told Pete Thamel of SI.com. "He threw and it's just a freakish thing. Everyone is scratching their head on how it happened." Thamel added that Miller suffered a torn labrum, not a dislocation of his shoulder.
The injury didn't go unnoticed all across college football and by former teammates.  And Las Vegas.
Ahh man this can't be real about @BraxtonMiller5 never wish an injury on anybody keep your head high fam, God has a plan for you get well.

— Todd Gurley II (@TG3II) August 19, 2014
https://twitter.com/bharrisqb1/status/501779162043260928
Keep your head up homie @BraxtonMiller5

— Carlos Hyde (@elguapo) August 19, 2014
Per @LVSuperBook, Ohio State's title odds drop from 12/1 to 50/1 following Braxton Miller season-ending injury.

— VegasInsider.com (@VegasInsider) August 19, 2014
RT @Johnny_Detroit: According to LVH, oddsmakers say #OhioState #Buckeyes QB Braxton Miller is worth 7-points per game! via @LVSuperBook

— Bruce Feldman (@BruceFeldmanCFB) August 19, 2014
There was some good news, at least for now, amidst the gloom as Miller revealed that he will return to the Buckeyes for the 2015 season.  Miller is a fourth-year senior and has yet to use a redshirt.
He'll use one this year and then, if he does return — he could change his mind and enter the 2015 NFL draft — he'll be a fifth-year senior who would be poised to again lead his beloved Buckeyes.
"I love Ohio State and Buckeye nation, and my goal is to come back from this injury stronger and better than ever," said Miller, who is 26-8 as a starter, including 24-2 the past two seasons, in his statement. "I am on course to graduate in December and I want to attend graduate school, and then return to lead the Buckeyes next season. In the meantime, I want to give all the support I can to my coaches and teammates as they chase a championship this season."
That's the future, though. The present is what currently matters most to OSU.
With the end of Miller's season officially finalized, the Buckeyes will turn to, at least initially, J.T. Barrett.  The redshirt freshman had been in a battle throughout spring practice and on into summer camp with sophomore Cardale Jones to be Miller's backup, only just recently moving into the No. 2 spot on the depth chart.
Both Barrett and Jones received extensive work during the 15 spring sessions as Miller rehabbed the partially torn labrum he suffered in the Orange Bowl loss to Clemson, which was subsequently repaired in what at the time was described as minor surgery in late February.  That extra work for the two reserves continued into summer camp as Miller had been limited due to what was described as soreness in his shoulder.
While the pair have received additional reps because of Miller's issues, it won't help the game-day inexperience.  Barrett has never thrown a pass at the collegiate level, while Jones has thrown just two.
Despite the lack of on-field experience at this level, Barrett will enter the huddle with a fairly lofty recruiting pedigree and an assertive leadership style.
A four-star member of OSU's 2013 recruiting class, Barrett was rated as the No. 7 dual-threat quarterback in the country.  Easily the biggest knock on Barrett is his arm strength, or lack thereof.  His offensive coordinator/position coach, however, says the former Texas high schooler more than makes up for lack of a cannon on his shoulder in other facets of the game.
"Extremely cerebral. Very magnetic leader," Tom Herman said earlier this month of a player who's turned out to be his new starting quarterback. "I think the kids kind of gravitate towards him.
"We've got to work on strengthening his arm. He's a distant third in terms of Braxton and Cardale in terms of just rearing back and trying to throw it through a wall. But he makes up for it in his anticipation and his accuracy and all that. You don't have to have a howitzer to be successful in college football. I'm very pleased with his continuing growth."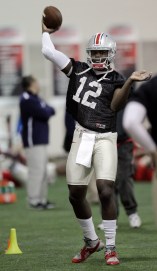 Jones, a three-star member of the Buckeyes' 2011 recruiting class who delayed his enrollment at OSU for prep school, was rated as the No. 12 pro-style quarterback in the country that year.  He took a redshirt as a true freshman, then played sparingly in 2013; in 39 plays from scrimmage last season, Jones threw the ball twice (completing one for three yards) and ran 17 times (for 128 yards and a touchdown).
Meyer didn't address just who will start the opener against Navy, although it was noted in the release that "[i]t was previously announced by Meyer on Saturday that Barrett, a 6-1, 225-pounder from Wichita Falls, Texas, had moved ahead of Jones for the No. 2 quarterback spot."  Recently, Barrett has taken the lion's share of reps with the first-team offense as he separated himself from Jones.
Taking all of that into account, there's no reason to tap dance around it — losing Miller for the year is a significant blow to the Buckeyes and will certainly have an impact on the Big Ten Race.  It also may very well significantly impact the first year of the College Football Playoff as the Buckeyes, despite the Big Ten title-game loss to Michigan State, were the overwhelming favorites to claim the conference and emerge as the league's playoff representative.  Miller is one of the most irreplaceable and indispensable players in college football; some would even argue that he's the most irreplaceable and indispensable, given the unproven running backs in OSU's stable and the coaching staff having to replace four of its five starting offensive linemen.
Even as it may seem like it in the here and now, the season's not completely lost for the Buckeyes.  As, just to name a few, Oregon's Marcus Mariota, Texas A&M's Johnny Manziel,  Notre Dame's Everett Golson and Florida State's Jameis Winston have shown over the past couple of years, redshirt freshmen are perfectly capable of successfully leading their teams in their first seasons as starters.  One of those four (Winston) won a BCS title, while another (Golson) helped lead his team to the BCS title game.  Winston won the Heisman en route to the championship, while Manziel took home his while helping the Aggies win 11 games their first season in the SEC.  Mariota was first-team All-Pac-12 in 2012 as the Ducks won 11 games, including the Fiesta Bowl.
More than likely, the Ducks and Aggies would've qualified for the playoffs were that system around in 2012, the former in particular.
Then there's this: USC's Matt Leinart (2004), LSU's Matt Flynn (2007) Alabama's Greg McElroy (2009), Auburn's Cam Newton (2010), Alabama's AJ McCarron (2011) and Winston (2013) all won BCS titles in their first year as starters over the last decade.
Who knows, Barrett could make it three seasons in a row for the second-year freshman/first-year starter phenomenon that's done nothing but grow over the past handful of years.  And, for now, that's about all Buckeye Nation can hang their title hopes on.
Well, that and a schedule that features just one team at the moment ranked in the Top 25 — No. 8 Michigan State in East Lansing.  That's easily OSU's toughest road game of the year, with other games away from The Horseshoe consisting of against Navy (9-4 in 2013) (in Baltimore), Maryland (7-6), Penn State (7-5) and Minnesota (8-5).  Their home slate features matchups against Virginia Tech (8-5), Kent State (4-8), Cincinnati (9-4), Rutgers (6-7), Illinois (4-8), Indiana (5-7) and Michigan (7-6).
According to FBSchedules.com, Ohio State's 2014 schedule is tied for fifth-toughest, with Oregon, among the teams currently ranked in the Associated Press Top 10.  The .569 winning percentage of its opponents top that of defending BCS champion Florida State (.550), Oklahoma (.477) and Alabama (.473).
In other words, it's not the cakewalk some have perceived to be.  It's not exactly a football death march either, which means that, depending on how fast Barrett — or Jones — get acclimated, all the gloom and doom currently hanging over the football program could give way to a postseason full of possibilities.  Or it'll be 2011 all over again in terms of the won/loss ledger.  One of the two.