As is the case each and every season, each and every week, any omission below is not on purpose, it's merely intentional.
THUMBS UP
Shaky title defense begins
Last year, Florida State rolled over, through and around its regular season opponents by an average score of 53-10, with their "closest" call being a 48-34 win over Boston College on the road in Week 5.  They did not score less than 41 points in any game, and allowed more than 17 points just once.  Based on the opener, the Seminoles won't be steamrolling through its 2014 slate.  At first it looked as if it would be lather, rinse and repeat as the Seminoles jumped out to a 17-0 lead midway through the second quarter.  Then  reigning Heisman winner Jameis Winston began misfiring — two interceptions, just over 60-percent completion percentage — and the Cowboys outscored the 'Noles 31-20 the rest of the way.  It wasn't enough to dig out of that big early hole, however, as FSU extended its winning streak to a nation's best 17 straight while Winston threw for 370 yards on an "off" night.  It did, though, offer some teachable moments for a coach looking to ensure his team doesn't suffer through a post-title malaise as the 'Noles go from being the hunter to the hunted.
Super Mario
Marcus Mariota has already been recognized as one of the best, if not the best, quarterbacks in Oregon history.  Now, the record books officially backup that stance.  In the Ducks' season-opening romp over South Dakota, Mariota passed for 267 yards and three touchdowns, running for one other score — and setting or tying two school career standards and getting closer to a third in the process.  Mariota now has 82 career touchdowns (66 passing, 15 rushing, one receiving), breaking the tie he had been in with Joey Harrington. He's also now tied with Darron Thomas for career passing touchdowns (66) and is within 22 yards (8,140 to 8,119) of breaking Bill Musgrave's record for total offense.  Suffice to say, Mariota, one of the preseason Heisman favorites, will break both those latter marks at some point during the Ducks' highly-anticipated showdown with Michigan State next Saturday.
This one's for you, bro
Early last November, Carl Pelini "resigned" as FAU's head coach amidst drug allegations that were later recanted.  Nine months later, Pelini's younger brother gave birth to a little bit of payback.  Saturday in Lincoln, Bo Pelini's Nebraska Cornhuskers pummeled FAU by the score of 55-7.  NU totaled a Big Ten-record 779 yards of offense — the most for the 'Huskers since 1991 — and included 493 on the ground.  Ameer Abdullah ran for 227 of those yards, a career-high performance, while Tommie Armstrong passed for a personal-best 271 yards.  It won't get the elder Pelini his job back with the Owls, but his former team's evisceration could provide him with a little satisfaction.
Everett the Redeemer
Nearly everyone by now is aware of the Everett Golson story: led Notre Dame to the BCS title game in 2012 in his first season as a starter, then was (temporarily) kicked out of school after cheating on an exam.  Golson's Redemption Tour commenced in earnest when he was readmitted in December, ramped up when he was officially named as the Irish's starting quarterback earlier this month, and went into another gear thanks to his performance in the 2014 opener.  In the first half alone against Rice, Golson passed for 222 yards and accounted for all four of ND's touchdowns — two passing, including a 75 and 53 yarders, as well as a pair on the ground.  Golson finished with 295 yards passing — second-most in his career — and five touchdowns as he added a second-half rushing score in the 31-point romp over the Owls.  If Golson can continue to shake off the rust and find his 2012 form, the Irish could be one of the teams that make noise in the postseason.
Fight or flight? No question for Trojans
It's been, to say the least, a rough last week for the USC football program off the field, from a senior captain admitting he lied about an act of heroism to another senior calling his now-former head coach a racist.  On the field, however, the Men of Troy have found some solace.  In the first game of the Steve Sarkisian era Saturday night, the Trojans took out all of their lingering frustrations on an overmatched Fresno State squad by the score of 52-13.  Quarterback Cody Kessler passed for 310 yards and three touchdowns… in the first half alone.  The offense ultimately rolled up 704 yards of offense on 104 plays, the latter of which set a Pac-12 record.  The defense, meanwhile, held the Bulldogs to 326 yards and forced four turnovers.  It was an impressive performance all-around, especially when viewed through the prism of the storm clouds hanging over the program's head.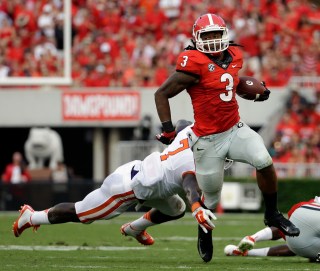 No Gurley man
When healthy, Todd Gurley is the unquestioned best running back in the country.  The Georgia junior is now healthy, meaning his talents were on full display in the season opener.  In the 45-21 win over Clemson, all Gurley did was rush for a career-high 198 yards on just 15 carries, scoring three touchdowns in the process.  For good measure, he returned a kickoff 100 yards for another score, giving him a school-record 293 total yards (he caught one pass for minus-five yards).  If Gurley can stay clean medically, there's little doubt he will be — at least, he should be — in the thick of the Heisman discussion throughout the season.
Bruin an offensive defense
In what was a first-ever occurrence, all 21 of UCLA's first-half points came from the defense: two interception returns (Ishmael Adams 20 yards, Eric Kendricks 37 yards) and one fumble return (Randall Goforth 75 yards).  In fact, all three of those defensive touchdowns came in the second quarter, the first time that's ever happened in a game featuring two Power-Five conference teams.  It was a good thing the defense came to play in Charlottesville, though, as the Bruins' offense was apparently still on West Coast time, outgained by the Cavaliers 245-136 through the first two quarters.  The Bruins didn't score its first offensive touchdown until just over a minute was left in the third quarter and held on for a 28-20 win.
Grin and Barrett
In his first game at the collegiate level, J.T. Barrett had his ups.  And his downs.  In other words, he played like your typical redshirt freshman quarterback.  In Ohio State's closer-than-it-looked 34-17 win over Navy, Barrett was efficient as he completed 12-of-15 passes for 226 yards and two touchdowns.  One of those incompletions, though, was a poorly thrown interception as the Buckeyes were driving for a score in the red zone.  On the other hand, Barrett was the team's leading rusher (50 yards on nine carries).  Said head coach Urban Meyer, "I thought J.T. did OK. He was good. I never felt he was rattled." Barrett appeared to grow more comfortable as the game progressed and it didn't appear the game was bigger than him, which bodes well for an OSU team that, despite the loss of Braxton Miller, still holds playoff aspirations.
Berkeley resurrection
It's just one game, but, after last season, it's a cause for celebration.  Entering the 2014 season on one of the hotter coaching seats in the country, Sonny Dykes watched Saturday as his Cal Golden Bears jumped out to a big 31-7 lead on Northwestern and then hung on for a 31-24 win in Evanston.  It was Cal's first win against an FBS team since Oct. 13, 2012 and snapped an overall nine-game losing streak.  This game could certainly be used as a measuring stick of the progress the Bears have made; last year in Berkeley, the Wildcats tripped up the Bears, who were en route to a one-win season, by two touchdowns.  Whether this portends a big turnaround for the Cal football program remains to be seen, but it certainly was a good start after the train wreck that was the 2013 season.
One tough zebra
As hard as they try, football officials sometimes inadvertently become physically involved in a play during the normal course of a game.  The latest example?  During the first half of the Southern Miss-Mississippi State game, back judge Kenny Long got up close and personal with a pair of Bulldog defensive backs:
Aside from a couple of nicks and cuts, Long was fine and continued officiating for the remainder of the game.
Beware the Mighty Bison!
When will FBS teams learn?  For the fifth straight season, FCS-level North Dakota State has knocked off an FBS football team, with Iowa State becoming the Bison's latest victims thanks to a 34-14 beating in Ames.  NDSU actually trailed 14-0 early in the second quarter before ripping off 34 straight points in ISU's humiliation.  The fact that the Bison pushed around one of the big boys from a Power Five conference is far from surprising — or at least should've been.  Despite losing its head coach to Wyoming, NDSU is the FCS preseason No. 1 and have won the last three championships (2011-13) at that level. The Bison have won 24 straight and 43 of their last 45, including a season-opening 24-21 win over Kansas State in 2013; a 22-7 win over Colorado State in 2012; a 2011 win over Minnesota by the score of 37-24; and, finally, a 6-3 win over Kansas in the 2010 opener. All of those wins against FBS teams, including Saturday's, came on the road.  If FBS teams are looking for an FCS cupcake, might I suggest North Dakota instead of North Dakota State?
It's official: North Dakota State has more Big 12 wins over the last three years than Kansas

— Fake SportsCenter (@FakeSportsCentr) August 30, 2014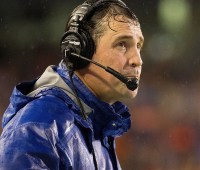 THUMBS DOWN
Mother Nature
The weather did its damnedest to interrupt at least a couple of games opening weekend.  Very early in the fourth quarter of the Arkansas-Auburn game, the game was delayed after severe thunderstorms, replete with lightning, moved into the area.  That contest was delayed for more nearly an hour and a half before play resumed.  A few hundred miles east of The Plains, the start of the Idaho-Florida game was delayed for nearly three hours due to weather… and then was delayed again shortly after kickoff… and then ultimately prompted the cancellation of the game.  How significant was the rain in The Swamp?  See for yourself:
When it rains it pours! #UFvsIDA @GatorZoneFB #inallkindsofweather #ItsGreatUF pic.twitter.com/uFVzqwWIhz

— Kan Li (@kanli) August 31, 2014
Looking real swampy now…#Gators pic.twitter.com/dIrbGji0QW

— Scott Carter (@GatorsScott) August 31, 2014
Elevator from hell
Somewhat surprisingly — OK, very surprisingly — Arkansas entered the locker room tied with Auburn 21-all at the half.  The Razorbacks were winless in SEC play last year, while the Tigers won the conference on their way to the BCS title game.  After the half, however, the game reverted to the expected form as AU scored the last 24 points to run away with the win.  So, what happened during that 15-minute break that turned the tide?
Arkansas' assistant coaches were stuck in the elevator and couldn't visit the team during halftime.

— THV11 HogZone (@HOGZONE) August 31, 2014
Of course, the faulty Otis wasn't responsible for what became a blowout, but the assistants not being able to work with their position groups certainly didn't help matters.
QB play from hell
It's not a stretch to say that North Texas set quarterback play 50-plus years with the display it put on Saturday.  During Texas' 38-7 win in the first game under Charlie Strong, two Mean Green quarterbacks — Andrew McNulty and Josh Greer — combined to complete 3-of-17 passes for 15 yards, no touchdowns and four interceptions.  That performance works out to a minus-22.9 quarterback rating.  I don't know if that was the worst collective rating of all-time, but I would think it wouldn't take long to call that particular roll.
Embarrassing Orange win
Yes, Syracuse's record stands at 1-0 on the season.  That, though, is where the highlights end.  Friday night, the Orange was taken to double overtime by Villanova before outlasting the FCS team by the count of 27-26.  The Wildcats outgained the Orange 389-320 and possessed the ball for nearly 38 of the 60 minutes in regulation.  Not only was 'Cuse the lesser of the two teams in nearly every category — aside from the one that counts — but its starting quarterback, Terrel Hunt, was ejected late in the second quarter for throwing a punch.  Not in any way, shape or form was the game in general or that incident specifically a good look, Scott Shafer.
Rocky Mountain low
This was the year Colorado was expected to get it together under Mike MacIntyre, turning the woebegone football program around and get it headed in the right direction.  While that may ultimately be the case, you sure couldn't tell it from the opener.  Trailing 17-14 entering the fourth quarter, Colorado State scored 17 unanswered points to upset their rivals 31-17 in the Rocky Mountain Showdown.  In fact, after CU took a 17-7 lead with almost 10 minutes left in the third quarter, CSU outscored the Buffs 24-0 the rest of the game.  It was a difficult and disappointing end for a team that entered 2014 with semi-high hopes.
Woofpack
(Waiting for the groans to subside… still waiting… and we're good)  Entering halftime, North Carolina State trailed Georgia Southern of the Sun Belt 17-3.  The Wolfpack trailed 20-10 entering the fourth quarter.  Thanks to a pair of touchdowns, including one with 1:37 remaining in the game, NCSU was able to fend off what would've been an embarrassing season-opening loss to a Sun Belt school for Dave Doeren and company.  The game did, though, signal that this could be a long season for the Wolfpack if they don't step up their level of play in a hurry as three of their first four ACC games are against Florida State, Clemson and Louisville.
FBS vs. FCS
Of the 84 games that have been or will be played during Week 1, a whopping 50 of them featured FBS vs. FCS matchups.  And, as expected, it was mainly a diet of lopsided wins for the big boys.  Aside from North Dakota State's deconstruction of Iowa State and Bethune-Cookman's two point win over FIU, FBS teams won 48 of those contests.  Of those 48 wins, just 11 were decided by 10 points or less.  Additionally, Power Five conferences played members of the Non-Power Five leagues in 17 games over the past three days; the Power-Five conferences have gone 14-3 thus far, with Utah State-Tennessee and SMU-Baylor still to be played Sunday.
TOP 25 TOO-CLOSE-FOR-COMFORT
How ranked teams endured close shaves vs. unranked opponents
No. 1 Florida State 37, Oklahoma State 31:  Maybe OSU should've been ranked in the Top 25 to start the season?  The Cowboys took the defending BCS champions to the limit, coming back from a 17-0 deficit late in the second quarter to scare the Seminoles opening weekend.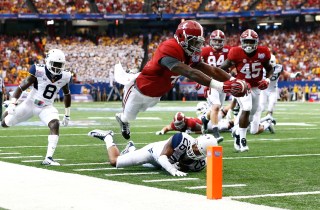 — No. 2 Alabama 33, West Virginia 23: Out of all of the surprising results from opening weekend, this is easily one of the most surprising.  The Tide entered this game as anywhere from 21- to 27-point favorites, but the Mountaineers hung with them throughout.  At the half, the Tide held a scant three-point lead.  UA stretched that lead to 10 early in the third quarter, with WVU never able to get closer than seven the remainder of the game.
— No. 5 Ohio State 34 , Navy 17: The final score indicated an easy romp for OSU, but it was far from it.  Playing without Braxton Miller, the Buckeyes were trailing the service academy 7-6 at the half, looking very much like an offense that had lost its linchpin.  Navy held a one-point lead until late in the third quarter when the Buckeyes scored the first of their three touchdowns in a span of 17 minutes to win going away.
No. 7 UCLA 28, Virginia 20: As noted above, it's a good thing the Bruins' defense showed up as the offense managed just seven points and 358 yards against the woeful Cavaliers, winners of just two games last season and six the previous two.
– No. 18 Ole Miss 35, Boise State 13: The Rebels exited the third quarter with a scant 7-6 lead… and then pulled away with 28 fourth-quarter points, with three of the scores coming on touchdown passes from quarterback Bo Wallace.
CFT TOP FIVE
A snapshot look at how my ballot would look Sunday if I, ya know, had a real vote.
1. Florida State — Yes, a six-point win after rolling through every regular-season opponent by at least 14 points last year pales in comparison.  This, though, was arguably the toughest team on FSU's schedule, which means the Seminoles, as they were at the start of the season, the heavy favorite to repeat as champs in the first year of the CFP.
Next up: vs. the Citadel Sept. 6
2. Oregon —  How much can you learn from what essentially amounted to a season-opening scrimmage in which the Ducks pounded FCS-level South Dakota 62-13?  Not a whole heck of a lot actually, so let's move on.
Next up: vs. Michigan State Sept. 6
3. Texas A&M — Based on that 52-28 beating of South Carolina in Columbia Thursday night, how can A&M not be rated among the five best teams in college football after the first weekend?  CFT may have snubbed the Aggies in our preseason Top 25, but that won't happen here.  For a team to be able to say "Johnny Football who?" after just one game, it seems destined for what most would consider a surprise season based on all of the attrition the past several months.
Next up: vs. Lamar Sept. 6
4. Alabama — It wasn't pretty, but a win is a win is a win.  The offense did rack up 538 yards of offense, while the defense limited West Virginia to just 28 yards on the ground in 24 carries.  There were, however, issues in the secondary yet again that must be corrected if the Tide is planning on making the expected postseason noise.
Next up: vs. FAU Sept. 6
5. Oklahoma — With Ohio State struggling with Navy for most of the game, the Sooners slide into the inaugural Top Five.  While it's hard to judge OU based on one performance against overmatched Louisiana Tech, and unlike OSU, the Sooners did exactly what they're supposed to do: stepped on an inferior opponent's neck and didn't let up until the last second ticked off the fourth-quarter clock.
Next up: at Tulsa Sept. 6
HE SAID IT
"I've coached a lot of football, but I've never seen that one. I don't think I've ever seen that. That one's hard to explain. To even have the wherewithal to put your hands back there, it's amazing. I've always said, he catches everything that's near him. He showed that right there." — Nebraska head coach Bo Pelini, on Jordan Westerkamp's behind-the-back catch (see below).
HE SAID IT, THE SEQUEL
"I told him, 'Do you. Don't try to go out there and do nothing that you don't do and try to be like (Braxton Miller) or anything. Just go out there and do you.' When you do you, that's when you're the most comfortable so that's what I told him." — Ohio State running back Dontre Wilson, on his message to first-time starting quarterback J.T. Barrett.
HE SAID IT, THE THREEQUEL
"It's a huge win. I can't tell you how happy I am for the people of Colorado State University. Those kids in that locker room prepared to go win a football game like a good team should. There wasn't any talking or any of that stuff; they just went out and played good football the way Colorado State Rams should." — Colorado State head coach Jim McElwain, after watching his CSU Rams embarrass in-state rival Colorado.
HE SAID IT. THE QUADQUEL
"The guy's a really good coach, now. Y'all need to fess up to that." — Alabama head coach Nick Saban, on much-maligned offensive coordinator Lane Kiffin.
HE SAID IT, BONUS EDITION
"I would say we played better than them. I don't know if we're the better team but if you looked at this game, I thought we played better. … The best team doesn't always win in overtime." — Villanova head coach Andy Talley said following his team's double-overtime loss to Syracuse.
CATCH OF THE DAY
Forget Catch of the Day; this beauty from Nebraska's Jordan Westerkamp may end up being the Catch of the Year after just one week.
"It was a crazy play," the player said in quotes distributed by the school. "I ran a corner route and I saw the ball get tipped, so I put my hands back and the ball just landed perfectly."
You, Mr. Westerkamp, are officially ridiculous.  What, the Hail Mary last year wasn't enough?
HELMET OF THE DAY
They may be reminiscent of something Ponch and Jon wore, but these Navy helmets the Midshipmen wore for their season opener against Ohio State were a gorgeous display of headgear:
GIF OF THE DAY
Behold, the glory of the elusive and mysterious "Ass Punt":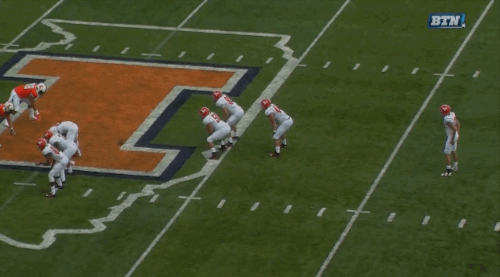 Bless you, Youngstown State's Joey Cejudo. Bless you.
The only thing that could've made that play better? If a fat guy picked up the "blocked" punt and returned it for a touchdown.
SID NOTE OF THE DAY
Alabama quarterback Blake Sims had a record-breaking debut vs. West Virginia. Sims, who finished the game by connecting on 24-of-33 passed for 250 yards, secured the school record for most completions and attempts of any quarterback in a debut game at Alabama. The former completions record was held by John David Phillips, who connected on 17 passes in his debut vs. BYU in 1998. The former attempts record was 30, held by three different Tide quarterbacks. In addition, Sims' 250 yards passing ranks third among Alabama quarterbacks in their debut. The record of 285 passing yards is held by Brody Croyle vs. Arkansas in 2002, followed by John Parker Wilson's 253 yards passing in 2006 vs. Hawai'i.
SAY WHAT?
With their first-ever game on a Friday in Week 1, the Colorado-Colorado State rivalry has now been contested every single day of the week except Tuesday.
Monday (1900)
Wednesday (1923)
Thursday (1916-18 and 46)
Friday (2014)
Saturday (75 times)
Sunday (1899, 2008-09 and 13)
SAY WHAT? PART II
There are 12 current FBS head coaches who are coaching at the same school at which they played their college football. The dozen coaches are listed below:
Air Force: Troy Calhoun (1985-88)
Boise State: Bryan Harsin (1995-99 )
East Carolina: Ruffin McNeill (1976-80)
Kent State: Paul Haynes (1987-91)
Northwestern: Pat Fitzgerald (1993-96)
Oklahoma State: Mike Gundy (1986-89)
Stanford: David Shaw (1991-94)
Texas Tech: Kliff Kingsbury (1999-2002)
Tulsa: Bill Blankenship (1975-79)
Utah State: Matt Wells (1994-96)
UTEP: Sean Kugler (1985-88)
Virginia Tech: Frank Beamer (1966-68)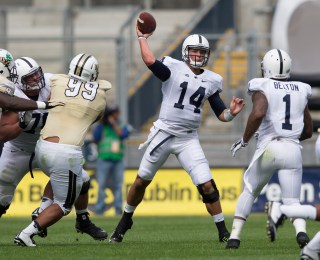 FOR STATISTICAL PURPOSES ONLY
— Not only was Christian Hackenberg's 454 yards passing a career high for the true sophomore, it was the first time in Penn State history that a quarterback had thrown for more than 400 yards in a single game.  The record-setting effort — besting the mark of 399 set by Zach Mills in 2002 — was punctuated by a late drive that culminated in Sam Ficken's game-winning field goal with no time left on the clock as the Nittany Lions upended UCF 26-24.
— Connor Halliday's 532 yards passing in the 41-38 loss to Rutgers Thursday were the second-most in school history, 25 yards behind his record set last October in a 62-38 loss to Oregon.  He needed 89 throws to set that mark, however, while he needed "just" 56 for his second 500-yard passing game.  Also, Halliday's five touchdown passes gives him 63 for his career, passing Ryan Leaf for third-most all-time at Wazzu.
— Brandon Doughty scoffs in the general direction of Halliday's performance as the Western Kentucky quarterback passed for 569 yards and six touchdowns in the season-opening 59-31 win over Bowling Green. Those two totals were school records, as were his 46 completions.
— Texas Tech's Davis Webb passed for 452 yards and four touchdowns in the Red Raiders' surprisingly close 42-35 win over Central Arkansas.
— In his first career start, Kentucky's Patrick Towles passed for 377 yards in leading the Wildcats to a win over UT-Martin.
— Thursday night, Kenny Hill's 511 yards broke Johnny Manziel's school record in Texas A&M's romp over South Carolina.
— Clint Trickett passed for more than 300 yards in West Virginia's loss to Alabama, making it the first time a Nick Saban-coached Tide team has allowed more than 300 yards passing in back-to-back games.  In the Sugar Bowl, Oklahoma's Trevor Knight passed for 348 yards.
— Taysom Hill scored a career-high five touchdowns, three passing and two rushing, as a depleted BYU squad strolled past UConn 35-10.
— USF true freshman running back Marlon Mack set an AAC record with 275 yards against Western Carolina.  The old record of 215 yards by Tulane's Sherman Badie was set just two days ago.
— Colorado State running backs Dee Hart (139) and Treyous Jarrells (121) combined for 260 yard rushing in the win over Colorado, becoming the first pair of Ram rushers to run for 100-plus yards in the same game since 1996.
— Not to be outdone, Michigan's Derrick Green (170) and De'Veon Smith (115) combined for 285 yards in the Wolverines' 52-14 payback waxing of Appalachian State.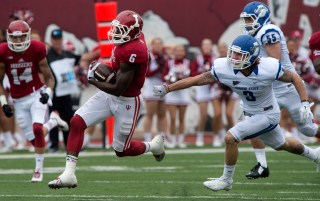 — In Indiana's 21-10 win over Indiana State, Tevin Coleman ran for a Memorial Stadium-record 247 yards and a pair of touchdowns on 20 carries.
— In the first game of his collegiate career, Western Michigan true freshman Jarvion Franklin ran for 169 yards and three touchdowns in the loss to Purdue.
— Playing in his first game at Air Force, Jacobi Owens ran for 233 yards as the Falcons rolled over Nicholls State 44-16.
— Alabama's Amari Cooper caught a career-high 12 passes for 130 yards in the win over West Virginia.
— Oregon State's Garrett Owens attempted a school-record seven field goals in Oregon State's 29-14 win over Portland State.  Smelter connected on five of those attempts, missing from 25 and 50 yards.  All of his made field goals came from 31 yards and closer.
— Defending national champion Florida State currently owns the nation's longest winning streak at 17 straight. Michigan State (11) is the only other FCS programs in double digits. Conversely, Miami (OH)  lost 17 straight, the longest such streaks in the country. Purdue has lost 11 straight, while Arkansas and Virginia have lost 10 in a row.
— Georgia State would've been on the wrong end of that list, but the Panthers were able to outlast Sam Houston State of the FCS 38-37 to end its 16-game losing streak.  It was GSU's first win since Oct. 13, 2012 (41-17 over Rhode Island).  In the four-year history of the football program, GSU has never beaten a team that was an FBS school at the time the game was played (they beat South Alabama in Oct. of 2011, but the Jaguars were still in the last year of their transitional phase to the FBS level).
— For the first time in school history, two true freshman offensive lineman, Toa Lobendahn and Damien Mama, started for USC in a season opener.
— Purdue's Corey Clement is, per the school, the biggest player in college football, with the offensive guard listed at 6-8, 400 pounds.
— With the loss to North Dakota State, Iowa State has now lost to an FCS program in back-to-back seasons — 28-20 to Northern Iowa in last year's opener included.
— With the win over South Dakota State, Missouri is now 13-1 in season openers under Gary Pinkel. The lone loss came in Pinkel's first season in 2001 (20-13 to Bowling Green), meaning the Tigers have ripped off 13 straight opening-day wins since.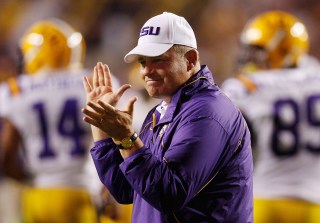 — LSU currently has the nation's longest regular-season non-conference winning streak at 46 straight games. Les Miles is 35-0 in non-conference regular-season games as head coach of the Tigers.
— The Badgers had won 16 consecutive season openers dating back to 1998, which was tied for the third-longest streak in the nation with USC and behind only Nebraska (29) and Florida (24). LSU, with the win over UW, has now won 12 straight games to open a season, a streak that dates to 2003.
— On the flip side, Western Michigan has now lost 10 straight openers after its loss to Purdue.
— With West Virginia's 3-0 lead early in the first quarter, Alabama trailed in a season opener for the first time since 2009 (down 17-16 to Virginia Tech late in the third quarter).
— With the win over Stephen F. Austin, Kansas State is now 21-2 all-time in openers under Bill Snyder. Just six of those 23 games have come against Power Five conference schools (Texas Tech, Arizona State, Iowa, USC, Cal, UCLA) while 13 have, like Saturday's opponent, come against FCS programs. The two losses were to Arizona State in 1989, Snyder's first season with the Wildcats and, infamously, North Dakota State last season.
— With the win over Kent State, Ohio's Frank Solich moved out of a tie with the Golden Flashes' Trevor Rees and into sole possession of sixth place for most wins in MAC history (67). Next up? Former Toledo and current Missouri head coach Gary Pinkel in fifth with 73. And, for those who are curious: Central Michigan's Herb Deromedi and his 110 wins make him the winningest MAC coach of all-time.
— In its 62-0 win over Delaware, Pittsburgh outgained the FCS team 506-71.  407 of those yards came on the ground, with eight Panther players credited with at least one carry.  James Conner led all rushers with 145 yards on 13 carries.
— Ohio State has been ranked in the Associated Press preseason Top 25 for each the past 26 years, the most of any college football program. Next closest? Oklahoma's 15 years.
— Speaking of OU, the Sooners have won at least 10 games in a season 12 times since 2000, the most of any program at the FBS level.
— UCLA's trip to Charlottesville to take on Virginia was the Bruins first trip to the stadium of an ACC school since they traveled to Maryland to face the Terrapins in 1969.
— With the loss Saturday, Clemson has not beaten Georgia in Athens since 1986. Just four games in that rivalry have been played Between the Hedges during that stretch, however.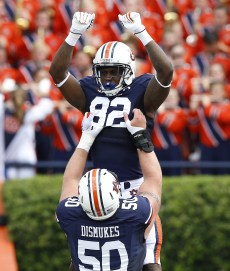 — Both Arkansas and Auburn have seven teams currently ranked in the Associated Press preseason poll on their 2014 schedules, the most in the nation. All seven of the Razorbacks' games against Top 25 teams come against SEC programs, including the season-opening loss to the Tigers.
— In its narrow eight-point escape against Northern Iowa, Iowa's defense recorded 13 tackles for loss.  That was the Hawkeyes' highest total since 2007.
— Houston entered Week 1 with 74 forced turnovers the past two seasons, the most for an FBS program.  In the opener against UT-San Antonio, however, UH lost the turnover battle 6-1 and, as a result, was "upset" by UTSA 27-7.  Speaking of the Roadrunners…
— UT-San Antonio returns 21 starters (9 offense/10 defense/2 kickers) this season, the most of any FBS program in the country.
— In its 45-0 loss to Stanford, UC Davis finally managed to cross midfield on the last play of the game.  The FCS team managed just 115 yards of offense — 61 rushing, 54 passing — for the entire game.
— During its three-point loss to Ohio, Kent State's defense forced fumbles on four consecutive possessions. All four of the fumbles were recovered by the Golden Flashes, but the offense could only turn the turnovers into seven points.
— Louisiana Tech will open the 2014 season with three games in 13 days, with all three of those coming on the road against teams that played in bowl games last season: Oklahoma, Louisiana-Lafayette and North Texas. Those three teams combined to go 29-10 in 2013; Tech finished at just 4-8.