What's that you say?  It's barely stopped raining confetti following  and we're already talking about a 2015 season that won't start for another eight months or so?
You're damn right I am.  And you know why?  'Cause that's how I roll.  Or something.
After a one-year sabbatical because of health-related issues — Urban Meyer is my muse — "A Look Ahead" is back, replete with numerous predictions that will, for the most part, prove to be criminally wrong as I'm the resident Nostradumbass.  In the "A Look Ahead" for the 2013 season, my early Top Five was Alabama, Ohio State, Texas A&M, Oregon and Stanford.  Two of those teams finished in the final BCS Top Five (Tide, No. 3; Cardinal, No. 5), although the Buckeyes were just outside at No. 7.  The other two were 10th (Ducks) and 21st (Aggies), so, in actuality, the year before last wasn't all that bad compared to 2012. (my gawd, USC, unranked at season's end, No. 1?)
Or 2011. (Oklahoma, which finished 14th, topping the Top Five?)
Or 2010. (Not a single team finished inside the final Top Five, and two — Texas and Iowa — weren't even ranked at season's end) (I had had Iowa ranked No. 5?!?!?) [/facepalm]
In other words, enjoy this for what it is: for entertainment purposes only, meaning all y'all can entertain yourselves making fun of me in the comments section.
FOUR COMPELLING STORYLINES
1. BUCKEYES' QB CONUNDRUM
They say if you have two quarterbacks you don't have any; what happens when you have three?
There's no road map for Ohio State in this situation as it's unprecedented: three quarterbacks who have shown that they are very capable of playing at a very high level and winning football games for the Buckeyes.  Braxton Miller, a two-time Big Ten Player of the Year knocked out for the season with a shoulder injury.  J.T. Barrett, 11-1 as a starter and in the thick of the Heisman discussion when a serious leg injury knocked him out of the regular-season finale.  Cardale Jones, who's first three starts included wins in the Big Ten championship game, the Sugar Bowl CFP semifinal and the CFP title game.  All three of those players could be back in 2015.  Barring a transfer, which direction will they go at the most important position on the field?  Barrett showed that, in his first season as a starter, that he was already a much better passer than Miller and nearly as big of a threat on the ground.  Jones, though, showed that he might be a better overall option for OSU's passing game as he can stretch the field and is extremely effective in getting yards on the ground as well.
The best guess is that Miller, already the subject of significant speculation, decides to transfer out at some point between now and spring practice, which he likely won't be able to participate in any way as he's not expected to be healthy enough quite yet.  Regardless of how it ultimately plays out, it's one helluva dilemma for Urban Meyer and his offensive coaching staff to have.
2. SEC TITLE DROUGHT
For nearly a decade, chants of "S-E-C!!! S-E-C!!! S-E-C!!!" would rain down at season's end.  The past two years, however, it's been S-E-C ya when it comes to titles.
Last year was the first season since 2005 in which a member of the SEC wasn't hoisting the championship Trophy at season's end.  This, 2014, is the first season since that same year that an SEC team isn't even playing in the title game.  You can call this a drought if you'd like, but it's essentially the cycle of life in college football.  After Tennessee won the first-ever BCS title following the 1998 season, the SEC went not only four years without winning another but without playing for one until LSU beat Oklahoma for the 2003 title.  It was then another two-year drought before Florida started what would be an epic seven-year run of BCS titles, a streak that Will Likely never be matched again by any conference.
Some people, though, are counting the SEC out and down; do that at your own peril.  Alabama, as long as Nick Saban is around, will be an annual title threat with an embarrassment of personnel riches.  Auburn is building something solid under Gus Malzahn, something that can be sustainable in the coming years, while LSU and Texas A&M, coming off disappointing campaigns on the backs of a young roster, are poised to rebound.  It remains to be seen whether the two Mississippi programs can build on their 2014 successes.  And the SEC East?  They may be down relative to the West at the moment, but the pendulum, history dictates, will swing back in their favor at some point.  In that vein, Georgia and Missouri could be ready to breakthrough to the national stage in 2015.
Whether it's the upcoming season or the following season or whenever, the SEC's mini-drought will end.  Until then, the rest of college football had better enjoy getting over on the former kings of college football.
3. GAME ON FOR BIG 12?
The Big 12 was the only Power Five conference shutout of the playoff this season, with most pointing a finger at the conference's lack of a championship game.  There have already been discussions about adding a title game to the 10-team conference, which the conference could do by petitioning the NCAA for a waiver, and those talks will continue until the athletic directors decide which direction they want to go.
It was made clear that the 13th game Ohio State played allowed OSU to leapfrog TCU and stay ahead of Baylor in the CFP rankings that set the four-team playoff field.  It's a fine line the conference is walking, though.  In a different set of circumstances, like OSU and Florida State losing in their respective conference championship games, the Big 12 could've actually have seen two of its members qualify for the playoffs.  Conversely, a championship game opens up the option of the league's highest-ranked team getting knocked off and knocking the team, and the league, out of a spot.
It seems that, at some point before the start of the 2015 season, the conference will make a decision on adding a title game.  One thing that's almost certain is that they won't, at least not yet, expand to 12 members as the path to a 13th game.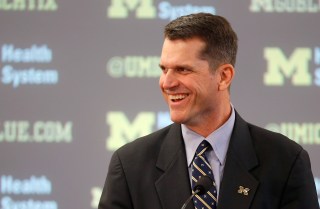 4. ANN ARBAUGH
Easily the most high-profile coaching hire since Urban Meyer came back to his home state of Ohio after a brief television sabbatical, or when Nick Saban took his talents from South Florida to Tuscaloosa, Jim Harbaugh's return to alma mater Michigan sent a jolt throughout the whole of college football, not just the Wolverines. It was almost — hell, likely was — unprecedented what Harbaugh did, foregoing a highly-successful NFL coaching career to "drop down" and return to the collegiate level.  And, boy, did UM specifically need this jolt.
Mired in the morass of the failed Brady Hoke experiment, which came on the heels of the failed Rich Rodriguez experiment, Harbaugh has given Ann Arbor something that's been lacking for years: hope.  Hope that the suffocating malaise wrought by Hoke and Rodriguez will soon be a thing of the past.  How soon?  Well, that's the $5 million-per question (as opposed to the $8 million-per).  Believe it or not, Harbaugh is not entering into a pantry that's bare; rather, Hoke recruited well — in 2013 and 2012, UM's recruiting classes were ranked fifth and seventh nationally and second in the Big Ten, respectively — and his system is close enough to Harbaugh's that it won't be like Hoke working out of a cupboard that RichRod stocked.  There's enough talent already in place for a coach like Harbaugh to be successful almost immediately.
The rub, though, lies in the division in which UM resides.  The two best teams in the Big Ten, Ohio State and Michigan State, are the high-profile residents of UM's East division, and OSU, a playoff participant this season, is likely to actually be better in 2015.  Harbaugh already has the Wolverines on the right path recruiting-wise; how long it takes them to get back on to the national stage will depend on how fast they can catch up to "Ohio" and "Little Brother."  Expectations will be high, especially right out of the gate.  Give it some time and just remember, if it doesn't go smoothly at first, just think back to Harbaugh's tenure at Stanford and what he did at an institution that's even more academically-challenging than UM.
EARLY-BIRD TOP FIVE
1. Ohio State
The Buckeyes, per the esteemed Phil Steele, will return 14 starters from both sides of the ball, 16 if you count the quarterbacks who have started games for the program.  The schedule sets up like a dream as well, with the lone "tough" road trips being at Virginia Tech (their lone regular season loss) and at rival Michigan, and possibly at Rutgers.  OSU will get Maryland, Penn State, Minnesota and Michigan State in Columbus, while the other non-conference games outside of Tech are all at home and all against non-Power Five teams.
2. TCU
Were it not for Baylor's epic fourth-quarter comeback, or the Big 12's lack of a conference championship game, it would've been TCU, not Ohio State, facing Alabama in the Sugar Bowl CFP semifinal matchup.  The Horned Frogs will again be loaded in 2015, especially offensively as they return nine starters from one of the best offenses in the country.  They will, though, have to travel to Minnesota, Kansas State, Oklahoma State (much improved, bank on it) and Oklahoma, although they do get the team that will be expected to be their biggest Big 12 obstacle, Baylor, in the friendly confines of Amon G. Carter Stadium.
3. Alabama
Out of all of the teams in my Top Five, Alabama returns the least amount of starters with just 12, including four on offense — and that doesn't include a quarterback.  However, when you've recruited the way the Tide has — six of the past seven years with the No. 1 class, with a seventh on the horizon — you merely stick your hand into the cupboard, grab whichever five- or four-star ingredient you touch first and throw it into the pot.  Breaking in so many new offensive starters, especially at quarterback, will be interesting early on, though, as the Tide will face three teams that will very likely be ranked in the preseason Top 25 the first month of the season: Wisconsin on a neutral field (Game 1), Ole Miss in Tuscaloosa (Game 3) and Georgia in Athens (Game 5).
4. Baylor
I guess you could say that, entering 2015, Baylor's loaded for Bear (waiting for the groaning to die down) (still waiting) (and we're good).  But, seriously, they are.  The 17 returning starters, nine defense, eight offense, are tops of the Power Five conferences outside of the 18 for UCLA and Cal.  One thing keeping BU from being any higher is the fact that they must replace Bryce Petty under center, although Seth Russell, the likely favorite entering spring practice, certainly has shown flashes of talent to be more than capable of directing the Bears' high-octane offensive attack.
5. Florida State
There were six teams additional teams, in this order, that I gave varying degrees of consideration for the fifth and final spot: Clemson (provided there's a healthy Deshaun Watson), Michigan State, Oregon, LSU, USC and Georgia.  In the end, I had to go with FSU for one simple reason: even as they only return about a dozen starters, Jimbo Fisher has the Seminoles absolutely loaded at nearly every position.  I think the loss of Jameis Winston will hurt more than some people think on the field — and his loss is why I very nearly pulled the trigger on their divisional rival —  but, damn has Fisher and his staff absolutely crushed it on the recruiting trail over the past couple of years.  Add in a schedule that should be very favorable and there's no reason why, much to the chagrin of its detractors, FSU can't and won't be a season-long presence in the Top Five.
(Writer's note: if Marcus Mariota returns for another season, plug the Ducks into the No. 3 hole and drop Alabama, Baylor down a spot while removing Florida State.  Thanks in advance for your cooperation in this matter.)
THREE RISERS
Teams outside the final Top 10 that could be in it in 2013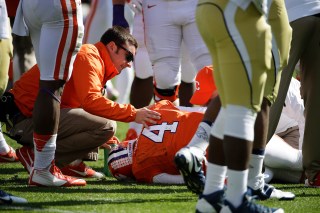 1. Clemson
This is an absolute no-brainer… provided, as mentioned above, Deshaun Watson is healthy for the entire season.  In the four games that Watson started and finished upright, the Tigers were 4-0.  Losing offensive coordinator Chad Morris to the head-coaching job at SMU could have an impact, and it might be going out on a limb that Watson can stay healthy, but the offense should be in capable hands.  The Tigers' defense, with coordinator Brent Venables, was also one of the best in the country in 2014, and there's no reason to expect monumental slippage in 2015 despite having to replace several key components along the defensive line. In fact, it wouldn't surprise me if the Tigers head into the regular season ranked ahead of the Seminoles.
2. LSU
Another no-brainer… provided they can find some semblance of an answer at quarterback.  With even average play at the position in 2014, the Tigers likely would've, once again, hit the 10-win mark instead of stumbling to eight wins.  Returning eight starters on each side of the ball will certainly help a return to prominence in 2015, as would either Anthony Jennings and/or Brandon Harris stepping up their signal-calling play — or bringing a transfer quarterback whose name rhymes with Schmaxton Schmiller or Schmeverett Schmolson to give the position a one-year bump.
3. Missouri
I don't really have any specific reasons for placing Mizzou here, so you can call this a hunch.  Or a gut feeling or whatever.  Also, I've significantly underestimated the two-time defending SEC East champion Tigers each of the past two years, and I won't be accused of doing that again.  Well, plus, I think Maty Mauk is going to take huge leap toward elite status, so there's that as well.  And, yep, that could come back and bite me on the hindquarters.  Then again, when you're the resident Nostradumbass, the ol' butt cheeks tend to get numb.
THREE TUMBLERS
Teams inside the final Top 25 that could struggle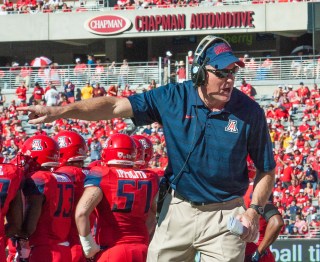 1. Arizona
This one falls under the Mizzou hunch category, but in the opposite direction.  Coming off the program's first 10-win season in a decade and a half and armed with a Pac-12 South title, things should be looking up for the Wildcats.  And they are, although I think a little slip is in order.  While the schedule is reasonably favorable, just two teams in the Pac-12 return fewer starters than Arizona's 12.  Just five of those returning starters are on a defense that played a significant role in the double-digit wins.
2. Georgia Tech
Tech came out of nowhere to win the ACC Coastal and post its first 10-win season since 2009.  History is not on their side, though, as the football program has posted back-to-back 10-win seasons just once in their history, way back in 1951 (11-0-1) and 1952 (12-0). The schedule's not exactly favorable, either, as Tech must face Florida State and Georgia at home as well as playing on the road against Clemson, Duke, Miami and Notre Dame.
3. Utah
The Utes' descent has already seemingly begun.  After beginning the 2014 season 6-1, Utah stumbled to a 3-3 mark to close out the year, including a pair of losses by 24-plus points.  The Utes return 13 starters, ahead of only Arizona (12) and Oregon State and Washington (11 each) in the Pac-12.  They also have road games against Oregon, USC, Washington and Arizona.
COACHING HOT SEAT
1. Al Golden, Miami
No Hoke, no Muschamp?  No problem as Golden is more than capable of holding — and is very deserving of — the top spot.  Simply put, Golden and his Hurricanes have to win in 2015 in order for him to retain his job.  And not just win as in becoming bowl-eligible; I'm talking win as in capturing a division title and playing in a significant bowl game on the way to a 9- or 10-win season.  The fan base, former players and even boosters are restless for The U to return to its glory days, and the din will only grower louder if the losses, like this year's late-season meltdown, continue to mount.  Golden should be applauded for how he guided The U through the choppy waters of NCAA sanctions, but that goodwill will run out very quickly if the wins don't start flowing.
2. Kliff Kingsbury, Texas Tech
I've asked it before, and the question remains relevant: Is Kingsbury becoming the Anna Kournikova of college football, being all about "the physical package" more so than on-field substance?  Since winning the first seven games of his tenure in Lubbock last year, including the first four Big 12 games, Kingsbury's Red Raiders have gone 5-12 overall and 2-12 in conference play.  Tech's two Big 12 win since mid-October last year were against 3-8 Kansas and 2-8 Iowa State, and two of their three non-conference wins came against FCS-level Central Arkansas (by seven points) and 6-5 UTEP (by four points).  I don't know if Kingsbury is on the hot seat after two seasons, but I know his record suggests he should be.
3. Frank Beamer, Virginia Tech
What came across as a very tepid endorsement from his athletic director ensured Beamer would see a 29th season in Blacksburg.  Whether there will be a 30th is up for debate.  From 2004-11, the Hokies won at least 10 games every season, winning six division and four conference titles in that span.  They also played in three Orange Bowls and two Sugar Bowls in that eight-year stretch.  In the three seasons since?  A 22-17 mark with appearances in the Russell Athletic, Sun and Military bowls.  If Tech struggles again this season, Beamer could very easily slip into, ahem, "retirement" and allow Bud Foster to take over the reins.
4. Tim Beckman, Illinois
Wins in his last two games to become bowl-eligible likely saved Beckman's job… for now.  The overall record, though, is enough to give any athletic director pause: 12-25 overall, with a painfully pitiful 4-20 mark in Big Ten play.  The Illini, though, has increased its wins by two every year during Beckman's tenure, going from two in 2012 to four to six in 2014.  It will likely take a similar increase for Beckman to see a fifth season in Champaign as anything less than another bowl appearance and decided, visible improvement will not be acceptable to either Beckman's boss or the school's boosters.
5. Paul Rhoads, Iowa State
Admittedly, it's not easy to win in Ames.  Rhoads, though, seemed to be bucking that trend, becoming just the second head coach in the football program's history (A.W. Ristine between 1902-05) to win five or more games in his first four seasons as head coach.  He'd also led the Cyclones to three bowl appearances in his first four years; in the previous 118 years, ISU played in nine bowl games.  However, the last two years have seen a decided dip in performance, with ISU posting a 5-18 overall record and a 2-15 mark in Big 12 play in 2013 and 2014.  Whether anyone could do a better job than Rhoads is arguable, but it's likely a question that those in decision-making positions will be asking themselves if the struggles continue in 2015.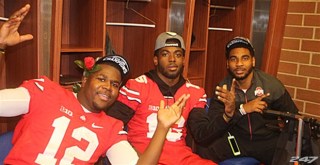 WAY-TOO-EARLY HEISMAN ROLL CALL
1. J.T. Braxdale-Barrillerones, quarterbacks, Ohio State — Take your pick of, in order of who I think the starter will be when the 2015 season kicks off, J.T. Barrett, Cardale Jones or Braxton Miller.  Whichever one of those three ends up under center — and can do so for an entire season — will have an embarrassment of riches from which to work, from running back Ezekiel Elliott to a very deep and talented receiving corps to one of the best returning offensive lines in the Big Ten if not the country.  Losing offensive coordinator/quarterback savant Tom Herman could hurt in the short-term, but the system Urban Meyer has in place is set up for continuing success regardless of the coaches that are in place.
2. Trevone Boykin, quarterback, TCU
You would've had a very good argument for Boykin being a finalist for this season's Heisman, but it wasn't meant to be.  Instead, arguably the most improved player in the country in 2014 will have to settle for being one of a handful of front-runners entering 2015.  With nine returning starters on offense, and with the top two running backs as well as four of the top five pass catchers back as well, Boykin will be well-positioned personnel-wise to make another run at a stiff-armed trophy.
3. Nick Chubb, running back, Georgia
All Chubb did as a true freshman in 2014 was rush for 1,547 yards and 14 touchdowns.  The most impressive aspect of that performance?  He didn't take over as the featured running back until the sixth game of the season, averaging 165.4 yards per game over the last eight; that total would've put him third nationally.  Given the fact that the Bulldogs will be breaking in a new quarterback, the opportunities to improve upon Chubb's smashing debut will likely be plentiful.
4.Deshaun Watson, quarterback, Clemson
I've already spoken of Watson, but allow me to wax on some more.  In games that the true freshman started and finished healthy, the Tigers went 4-0.  If Watson had played in just one snap in one additional game, even if he didn't attempt a pass, his pass efficiency rating of 188.6 would've been the best in the country, ahead of Heisman Trophy winner Marcus Mariota's 184.4.  Additionally, his 10.7 yards per attempt were the best in the country for quarterbacks with at least 125 pass attempts.  The biggest question for Watson, who will be returning from a torn ACL, is whether he can not only get healthy but remain that way for an entire season.
5. Dak Prescott, quarterback, Mississippi State
Before faltering down the stretch, Prescott was at one point the wagering favorite for the 2014 Heisman.  More so than just about any player who entertains 2015 Heisman hopes, Prescott's candidacy while likely be predicated on his team's success.  He won't put up the passing numbers the other quarterbacks listed here will, although his 41 total touchdowns in 2014 (27 passing, 14 rushing) are certainly impressive based on any metric.  He'll have to improve on those numbers, and increase his passing production, in order to become the first Bulldog to win a Heisman.