Either Jim Mora or the person responsible for the UCLA head coach's Twitter account needs to pick up a copy or of "Twitter for Dummies."
Mora's Twitter account was originally abandoned earlier this month after a tweet war erupted in the wake of the post-bowl handshake imbroglio with kindly Bill Snyder.  Mora then moved to a private Twitter account before resurrecting the old one, as BruinsNation.com explained.
The account then posted the following photo late last night, one in a series of screen snaps astutely compiled and saved by the same SBNation.com website: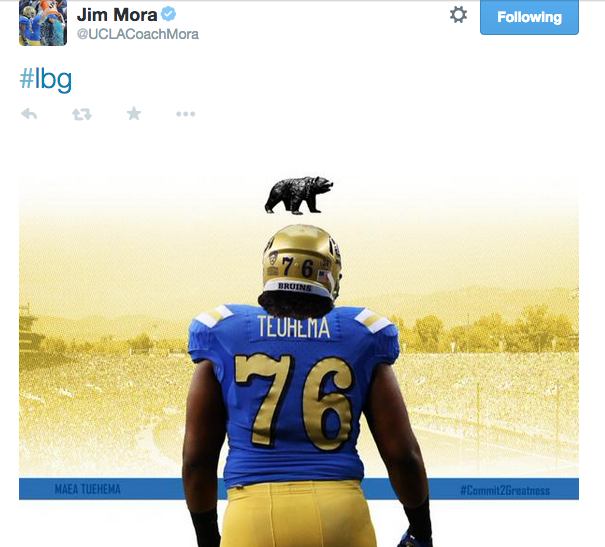 That would be a Bruins uniform photoshopped onto the body of Maea Teuhema, a five-star 2015 recruit Mora and the Bruins are trying to flip away from LSU. That would also be an NCAA no-no as coaches are not permitted to acknowledged unsigned prospects in such a manner.
In a gallant attempt to cram the toothpaste back into the tube, one in which we harken back to the golden age of "the dog ate my homework" excuses, the account went here with its explanation: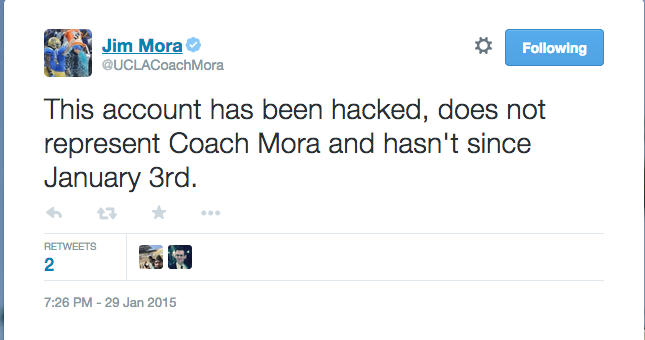 As of now, if you attempt to access Mora's Twitter account, you get the following

When it comes to social media in general and Twitter specifically, Mora might want to take to heart the (paraphrased) sage advice Brian Fantana gently offered Champ Kind: "Take it easy, Champ. Why don't you sit this next one out, stop tweeting for a while."