It appears that Brent Calloway still has an attachment to his former football program, at least when it comes to haberdashery.
Along with three teammates, Calloway was arrested in connection to a pair of robberies in February of 2013.  While Calloway did not physically participate in the robberies, he was charged with fraudulent use of a credit/debit card.  That, though was Calloway's second arrest since coming to the Tide as a four-star recruit in 2011; in October of that year, he was charged with misdemeanor possession of marijuana.
All four players were dismissed from the football program roughly two weeks after the alleged crimes were committed.
The former highly-touted recruit dropped down to the JUCO level before ultimately giving a rugby career a go. His off-field legal issues also continued after leaving Tuscaloosa, with al.com reporting that Calloway was arrested this past weekend and charged with felony unlawful possession of dangerous drugs and second degree possession of marijuana.
What makes this pertinent is that Calloway was proudly sporting an Alabama Crimson Tide t-shirt for his mugshot after being arrested: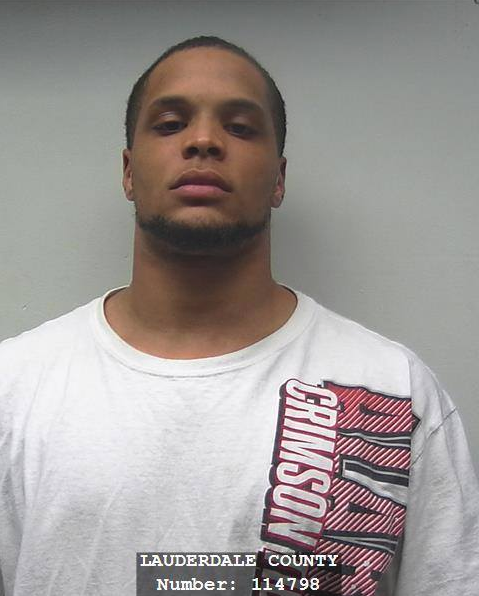 "Parole Tide!!!"
Calloway was a four-star member of the Tide's 2011 recruiting class, rated as the No. 5 outside linebacker in the country; the No. 1 player in the state of Alabama at any position; and the No. 38 player overall according to Rivals.com.  His signing with Alabama was the culmination of a recruiting roller coaster ride that continued on into his very brief playing career in Tuscaloosa, with Calloway redshirting his true freshman season and playing a very limited role in the 12 games in which he appeared last season.
(Photo credit: Florence (Ala.) Police Department)