This is indeed very real and could ultimately end up being utterly spectacular.
On Baylor's post-spring depth chart, LaQuan McGowan is listed, along with Tre'Von Armstead, as the co-starter at the tight end position.  That normally wouldn't merit a post, but…
Last season, McGowan was a 390-pound offensive lineman who set the college football world aflame with an 18-yard touchdown reception in the Cotton Bowl loss to Michigan State.  This spring, McGowan, now officially listed at 410 pounds, was initially getting practice looks at tight end, but that's morphed into something else entirely as the hulk of a receiver is not even listed as a lineman on the depth chart.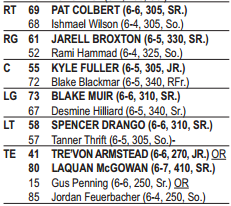 In other words, and at this point in time, there's a fairly reasonable chance that we will get to witness a 410-pound starting tight end and there aren't many things that get more awesome than that and God bless you Art Briles.
https://twitter.com/CorkGaines/status/550751673128198144
As for who would potentially be throwing a football to the mountain man with soft hands?
In late February, Briles stated that "[s]omebody is going to have to beat out Seth Russell for the" starting job.  It appears that remains the case as Russell is listed as the starter on the depth chart, with sophomore Chris Johnson and freshman Jarrett Stidham sharing the backup title with an "OR."