For the first time since July 29, 2014 somebody with the ability to post updates on the Facebook page for EA Sports' NCAA Football video game posted an update that quickly set the Internet ablaze.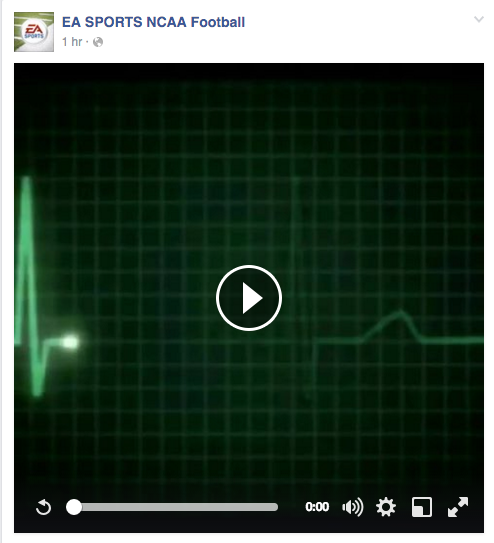 EA Sports, of course, has been forced to shut down its NCAA Football franchise due to legal concerns over the use of player likenesses in the game, and to promote the game. That was disheartening to a number of passionate fans of the franchise, but it was easy to see why EA Sports had to shut down the franchise with rising legal costs and risks with continuing the franchise. Last July, a judge approved a $60 million settlement in the a player-likeness lawsuit against the NCAA and EA Sports. The NCAA chose not to renew its licensing deal with EA Sports in 2013 as the lawsuits were preparing to go to court. That came after a handful of schools and conferences took the initiative to pull out of deals to allow their logos and names to be used in the NCAA Football franchise.
This is what makes this latest Facebook update so noteworthy. Could this be a sign that the franchise will be revived in the future? That is clearly the initial reaction many had to the Facebook update, but it appears that may not be the case.
https://twitter.com/owengood/status/686594695191990272
It should be noted there was no such update the day of last year's College Football Playoff. As mentioned, the most recent Facebook update before today's post was in July 2014. Is EA Sports pulling a massive troll job on its loyal fans, or is there more to this than the company is ready to shed light on? I would suggest fans don't hold their breath just yet on the beloved franchise making a return any time too soon, but you just never know sometimes.