Here's something you normally don't hear every day. Or ever, actually.
Construction crews are in the midst of an expansion project, which began shortly after the end of the 2015 season, at Oregon State's Resar Stadium. Monday, those crews were digging in the north end zone of the stadium when they stumbled across what's believed to be the femur from a woolly mammoth. Additionally, the bones of several other extinct mammals were found.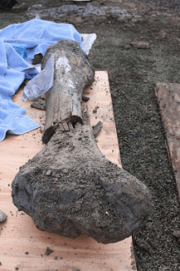 The area where the bones were found is believed to have been a bog or marsh around the time mammoths roamed the area 10,000-plus years ago. An Oregon State professor of anthropology said in a school release that "[a]nimals who were sick would often go to a body of water and die there, so it's not unusual to find a group of bones like this;" given the Beavers' 115th-ranked scoring offense in 2015, that visual of what led to the end zone find is more than apropos.
As for construction, work in that area of the stadium has been temporarily halted as the school's anthropology department further investigates the site of the find. Because no human remains or human artifacts have been found, it's not considered an archaeological site and therefore the site is not subject to regulations that would halt work for a significant period of time.
As it stands now, the project manager stated that the delay in construction because of the find has been minimal.
The Valley Football Center expansion and renovation project is still expected to be completed prior to the start of the 2016 season.
(Photo credit: Oregon State University)