One of the most bizarre stories in NFL Draft history is unfolding in real time Thursday night, as former Ole Miss left tackle Laremy Tunsil's social media accounts are turning his evening into a living nightmare.
Ten minutes before the Draft opened, a video posted to Tunsil's Twitter account showed him taking a massive bong hit.
Laremy Tunsil just posted him hitting a pipe on his Twitter account: https://t.co/shv3wRmMAa via @YouTube

— NFL Draft Diamonds (@DraftDiamonds) April 28, 2016
Tunsil, at one time slated as a No. 1 pick, slid all the way to the Miami Dolphins' selection at No. 13.
Moments after Tunsil's selection, the person behind his Instagram account posted screenshots of text messages that purportedly show him asking Ole Miss staffers for money.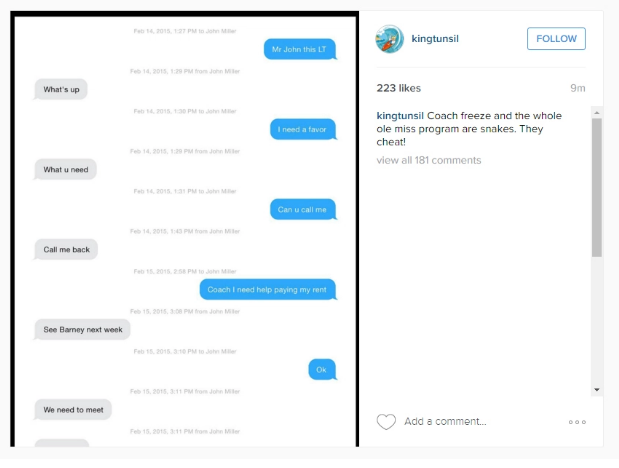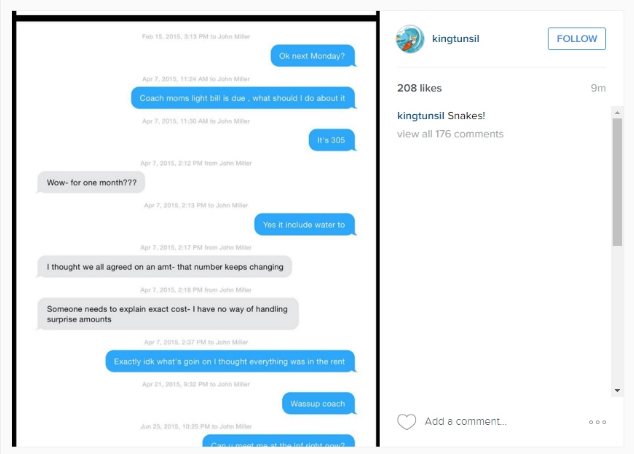 The first set of texts, from the spring of last year, purportedly shows Tunsil asking the recipient, "Coach I need help paying my rent." To which "Mr. John" says, "See Barney next week."
Later, he asks "Mr. John" for $305 to pay his mother's rent. The recipient says, "I thought we agreed on an amt (sic)- that number keeps changing." The post is captioned "Coach freeze and the whole ole miss program are snakes. They cheat!"
Ole Miss employs a John Miller as assistant AD for football operations, and a Barney Farrar as assistant AD for high school and junior college relations.
To be clear, these texts don't prove anything and could easily be faked. But Tunsil's own words will be harder to dispute.
Laremy Tunsil asked if he took money from a coach. "I'd have to say yeah."

— Hugh Kellenberger (@KellenbergerCBB) April 29, 2016
Tunsil speaks. pic.twitter.com/5wTXFP3e89

— Emily Kaplan (@emilymkaplan) April 29, 2016
Tunsil missed seven games of the 2015 season, with a loaner vehicle reportedly at the center of the NCAA's inquiry. Ole Miss has delayed releasing its response to the NCAA's Notice of Allegations, and perhaps we now know why.