Everybody knew that life after Dak Prescott would be tough for Mississippi State.  But losing-to-a-Sun-Belt-team tough?
As it turns out, yep.
Actually, it started out well for the Bulldogs, with MSU cruising to a 17-0 first-half lead on South Alabama in Stark Vegas.  That gap tightened up to 20-7 by the end of the third quarter… and then the fourth quarter happened.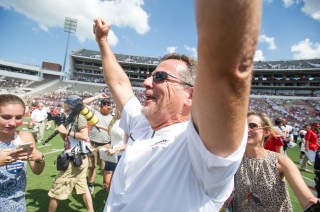 USA, four-touchdown underdogs entering the contest,  further cut into the lead with just under 13 minutes remaining on a Tyler Thomas four-yard touchdown run.  MSU maintained control at 20-14 for the next 10 minutes, and had the opportunity to go up two scores with just over six minutes remaining… but missed a 46-yard field goal attempt. With just over six minutes remaining.  On the ensuing drive, USA marched 71 yards in nine plays, capping off the drive with a four-yard Dallas Davis touchdown pass to take their first lead of the game at 21-20 with six minutes and change left.
MSU wasn't finished, however, as they drove 54 yards following the kickoff to set up a game-winning 24-yard field goal attempt with six seconds left… and proceeded to clank that attempt off the upright to give the Jaguars the 21-20 win.
Since becoming a full-fledged FBS member in 2012, USA had never beaten a Power Five team until today.  In fact, they lost six of seven such games by 20 or more points, and the average margin of defeat in the seven games was 28.1.