South Florida and UCF first met in football in 2005, at which point a pretty natural rivalry was christened. From the earliest of days, some sportswriters dubbed the logical rivalry the "War on I-4," and now that is the official name for the rivalry between the two schools.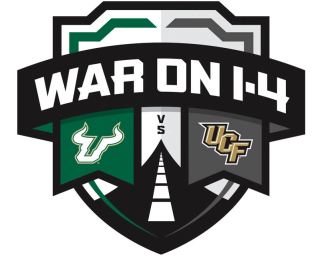 Unlike the rivalry UCF has with UConn, the Knights and Bulls mutually agreed to form an actual trophy for a series of competitions between the schools, including the annual football game. The competition gets underway this weekend with athletic events in volleyball and men's soccer and points will be awarded throughout the academic year in a variety of athletic competitions between the two schools. At the end of the year-long competition, a trophy will be awarded to the school with the most accumulated points and hold the bragging rights until losing control of the trophy.
One cannot read the press release for this new trophy competition though without feeling the schools are teaming up to make a sales pitch to a certain power conference in search of potential new members.
The "War on I-4" represents a long-standing and passionate rivalry between the fan bases of two of the nation's largest and fastest growing universities. The Tampa Bay and Orlando metropolitan areas, which form the fourth largest media market in the nation, are connected by a 100 short miles of Florida Interstate I-4.
UCF and USF will play in football on November 26, the final game of the regular season for each. Six points in the War On I-4 standings will be on the line.